Saturday March 18, 2023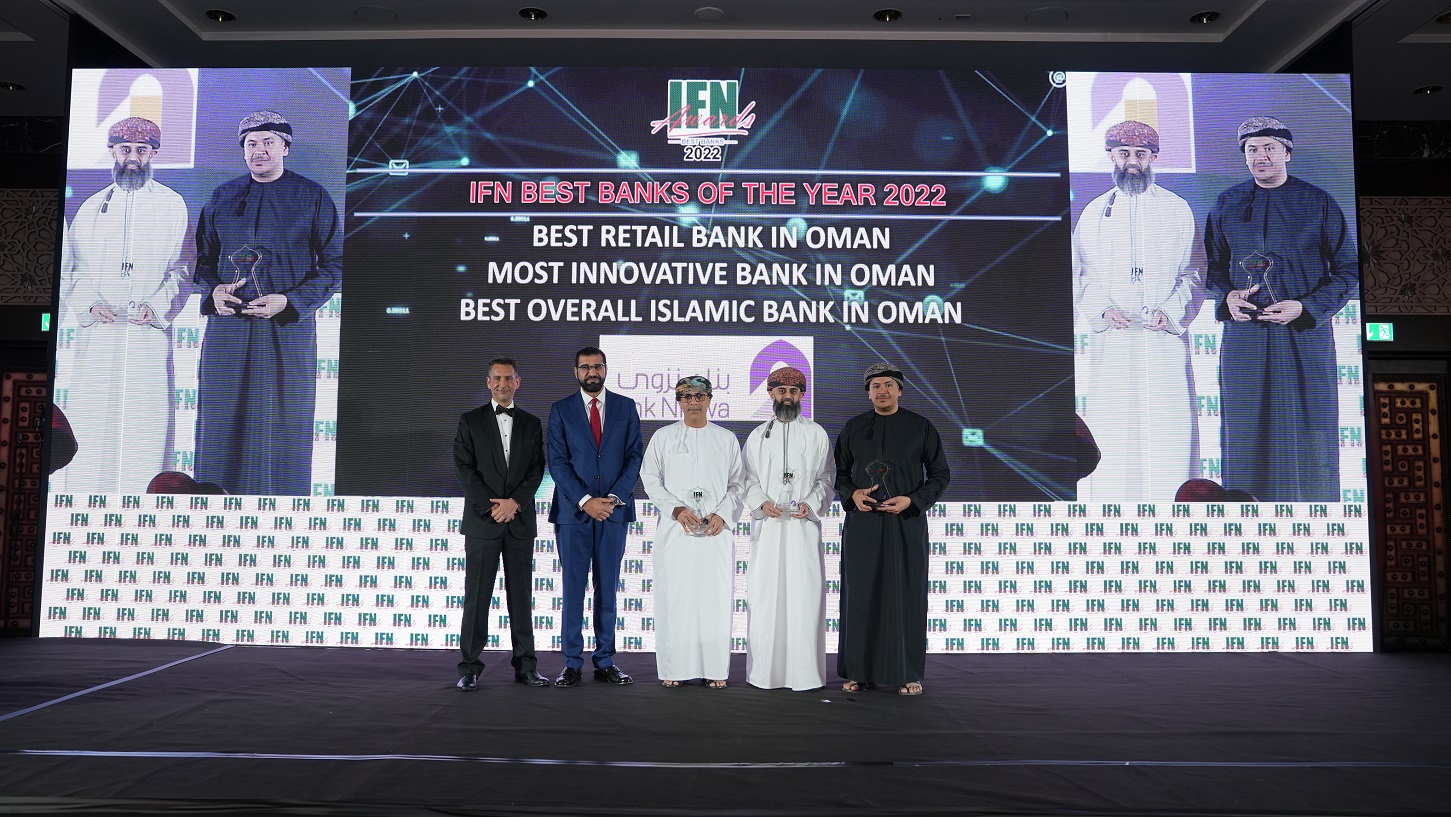 Bank Nizwa, Oman's most trusted and prominent Islamic bank, has been named the 'Best Islamic Bank' in the Sultanate by the Islamic Finance News (IFN) Awards 2022, held in Dubai, acknowledging its development and excellence in servicing its clients. Bank Nizwa was also named the 'Best Retail Bank' and the 'Most Innovative Bank' in Oman. Furthermore, Towell Infrastructure Projects Co's (TIPCO) Syndicated Wakalah, valued at OMR 14 million, was awarded the title of 'IFN Deal of the Year' in Oman, with Bank Nizwa being a major investor.

"We are truly honoured to have received four prominent accolades in the country at such a prestigious event for the global Islamic financial sector. These highly sought-after titles are an exemplification of Bank Nizwa's position as a dominant player in Oman's Islamic financial sector. Setting the blueprint for change, our growing multi-industry portfolio of Shari'ah-compliant products and services offered to corporate and private banking customers is an indication of the bank's competency to devise solutions that meet the ever-rising demand for Islamic products," said Khalid Al Kayed, Chief Executive Officer of Bank Nizwa.

"I can proudly say that we have the talent and calibre to be deemed as the trusted financial partner for our customers. We will continue with the dedication to improve our customers' experiences, streamline our processes and explore new avenues that add value to our customers and shareholders as well as demonstrate realistic growth and profitability," he added.

Bank Nizwa's unwavering dedication to embedding innovative solutions, leveraging technological advancement and being at the front of promoting digitalisation in the banking sector influenced IFN to award the bank with the venerated award. Showcasing exceptional performance across all its departments, Bank Nizwa has achieved a noteworthy financial performance by registering a 20 per cent growth in net profit. The bank's total assets also increased by 6 per cent, reaching 1.486 billion Omani Rials in December 2022 from 1,405 million Omani Riyals in December 2021. The gross financing portfolio improved by 10 per cent to 1,242 million Omani Rials, whilst the total customer deposit portfolio rose by 7 per cent to 1,189 million Omani Rials. The bank's operating income witnessed a growth of 18 per cent.

Bank Nizwa has defined itself as a pioneer in the Islamic finance industry, facilitating digital transformation and innovation in the banking sector by incorporating digitalisation in several domains. Bank Nizwa has amalgamated innovation into all of its operations and created a digital ecosystem for the bank whilst assuring the maximum degree of cyber and data protection. This has aided in reframing consumers' journeys in terms of progressive Shari'ah-compliant products that fulfil all of their financial needs. Bank Nizwa also has a sophisticated mobile app that offers increased banking accessibility through a variety of user-friendly services and is continually updated to include new features. All of its e-banking sites provide a consistent user experience, encouraging everyone to make the switch to digital banking.

Having established itself as one of the most respected Shari'ah-compliant banks in the Sultanate through only nine years of operation, Bank Nizwa has earned more than 35 local, regional and international awards.