Saturday January 22, 2022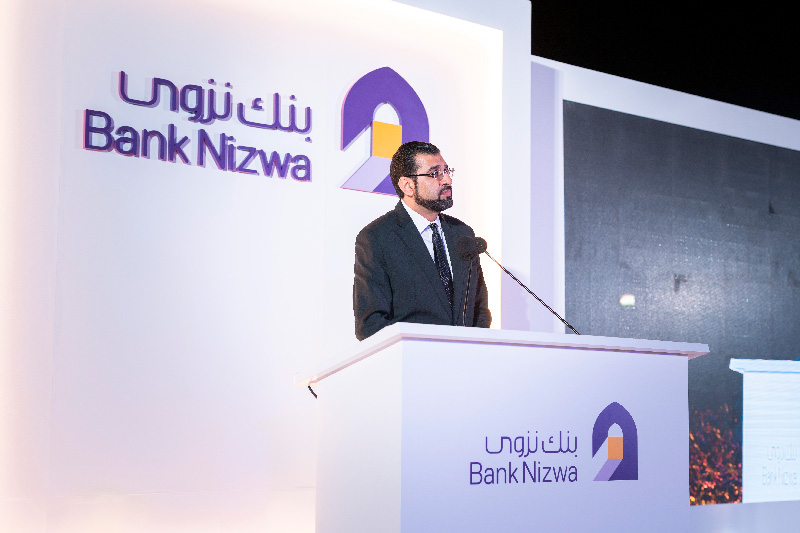 Oman's most trusted Islamic bank, Bank Nizwa continues to hold the top spot amongst the country's Islamic financial institutions. With a rich legacy of robust growth and expansion, Bank Nizwa caters the end-to-end financial requirements of individuals as well as corporates under two major business divisions, namely, Retail and Wholesale Banking.
Continuing to stay connected, and cater to its prestigious clientele of the -Wholesale Banking Group, Bank Nizwa hosted an event to engage, and thank them for their continued support, trust and confidence in the bank. The event witnessed the attendance of senior executives, business leaders, and business owners, from Oman's corporate world. Mr. Khaled Al Kayed, Chief Executive Officer; Mr. R. Narasimhan, General Manager - Wholesale Banking; and Mr. Khalid Al Barwani, DGM – Wholesale Banking Group, along with other members of Bank Nizwa's team were present for this significant event.
The event was attended by key industry leaders and clients from across the Sultanate and the UAE including corporate clients from Sohar, Salalah, Duqum. It served as a networking platform and gave Bank Nizwa the opportunity to share knowledge on the evolution of Islamic Finance in the country, with a special focus on Wholesale Banking, and the roadmap for sustainable financing.
In his speech, Mr. Al Kayed, pointed out that the Islamic banking sector in Oman has seen phenomenal progress in the last few years and that it will continue to thrive on the back of continuous innovation in products and services, a keen focus on digitalization and excellence in customer service levels. Elaborating on this, he said, "There has been a high degree of activity in the Islamic banking sector and the progress the entire sector has achieved is something we should all be proud of. Bank Nizwa has served this growth, successfully pioneering products, services, and a futuristic business plan, attesting to our capabilities. The reason for this stellar growth is the relationship that we have been able to cultivate with our customers and partners that continue to play a key role in expanding our market share while encouraging Islamic banking in the community. As a Sharia-compliant bank, Bank Nizwa goes beyond just facilitating transactions – it serves as a benchmark of industry best practices, best in class services and a pillar of trust in the modern economy. Showing remarkable progress year-after-year, Bank Nizwa has always acknowledged the efforts of its Wholesale Banking Group, recognizing it as a vital contributor to its success.
The Bank's Wholesale Banking Division comprises 10 units that facilitate services to major business segments in SME, mid-corporate, large corporate, and Project Financing, in addition to dedicated support units with skill sets under treasury, transaction banking, advisory & Investment banking, and Financial Institutions Group. The Group also focuses on Government Businesses both for financing as well as for resources support. Bank Nizwa's Wholesale Banking Group also organizes seminars in major business locations in order to enhance the knowledge of clients in Islamic Products and structuring.  
Speaking on the occasion, Mr. R. Narasimhan, said, "In the last 5 years the Bank's Wholesale Banking Unit has achieved average growth of 36% per annum in both asset and liabilities with portfolio growing exponentially from USD 650 Million in 2015 to USD 4.25 Billion by the end of November 21. The growing, multi-industry portfolio is a testament of the trust clients place in our Shari'a compliant products and services. Wholesale Banking group has established itself to address all the requirements and provide 360°-degree solutions to its customers. It offers a comprehensive array of Shariah-compliant financing solutions to cater to the working capital finance, import, export finance, long-term finance, documentary credit requirements, and project-based financing."
In line with Bank Nizwa's growth strategy and contribution to the Sultanate's economic diversification goals, the Wholesale Banking Group concluded several unique financing structures including green financing, food security projects, Public Private Partnership model, infrastructure related project, tourism projects, projects of the aviation industry and core manufacturing industries like Steel, Cement, Plastics, Chemicals, Oil and Gas amongst other key sectors.
Bank Nizwa also offers tailor-made solutions to SMEs in the Sultanate. The trust placed in the bank's services is evident through a notable increase in its SME customer-base and business volume. The Bank has a strong technology focus and is further upgrading its technology in state-of-the-art transaction banking platforms, including Supply Chain Finance, which will compliment SME customers by leveraging large and Mid-corporate customers.  
With financial solutions geared at making Islamic finance more accessible, convenient and hassle-free, Bank Nizwa has an entire suite of Sharia-compliant financing, savings and investment products for individual customers as well as SMEs, corporate and commercial clients. This diversity has helped Bank Nizwa attain the largest market share in Islamic finance in the Sultanate while achieving steady growth in its customer base. The bank was also recognized recently as "Best Wholesale banking Service Provider" by Global Business Outlook and as "Oman Domestic Foreign Exchange Bank of the Year" at the ABF Wholesale banking awards 2021.