Sunday October 16, 2022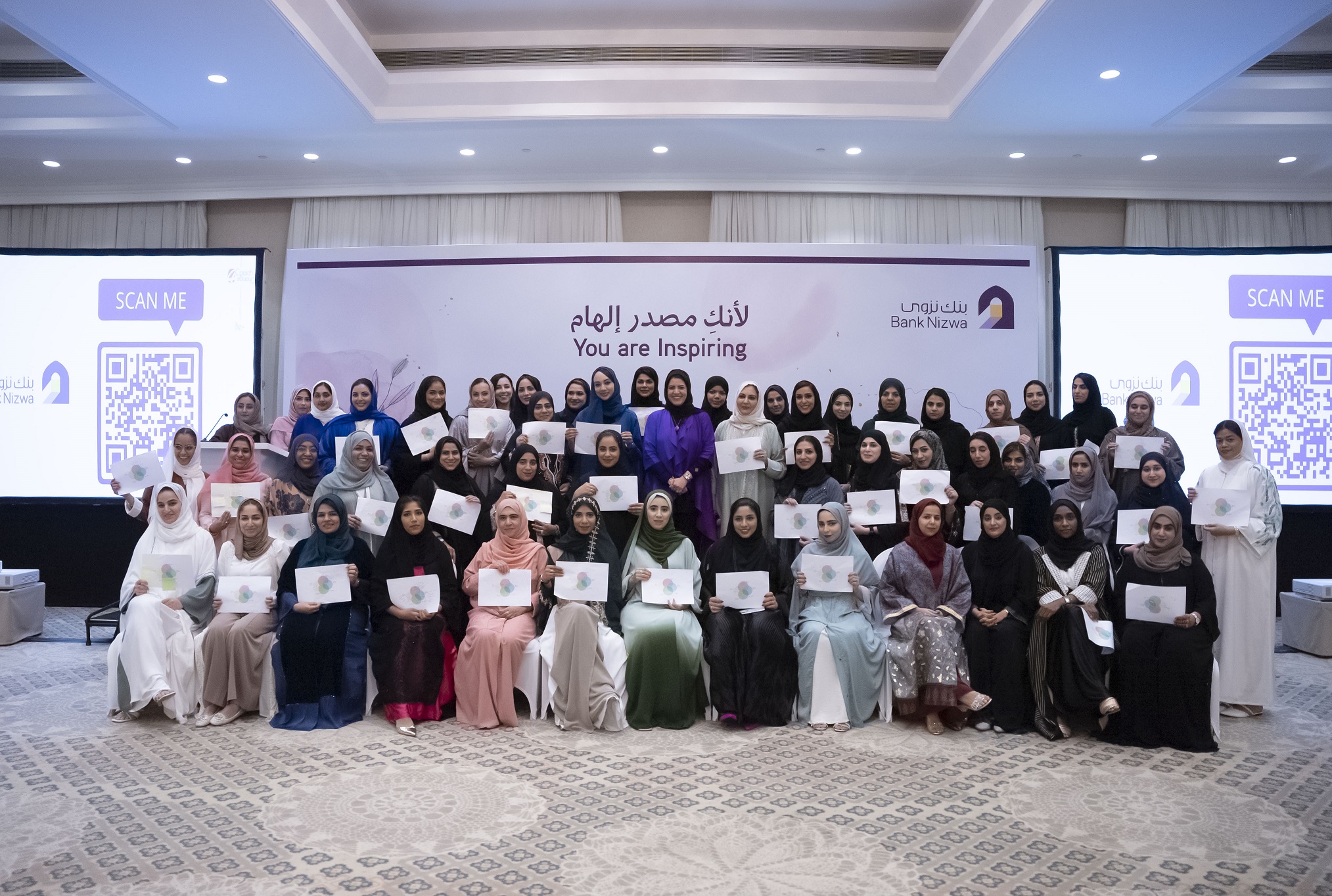 From leadership lessons to success stories, Bank Nizwa marked Omani Women's Day with a day-long eclectic and interactive workshop for its female employees Led by Dr. Lamya Al Haj, a member of the board of directors of the Arab Gulf States Institute in Washington and an associate professor at Sultan Qaboos University and founder of Coach4Change. The workshop involved attendees in immersive learning activities and demonstrated life skills to redefine success and cultivate leadership qualities that enhance both personal and professional life.
Organized to celebrate Omani women and their achievements, the get-together provided a platform for the Bank's employees to engage with the management team, partake in team building activities and assimilate life skills through an inspiring workshop that was aimed at empowering women and enhancing their roles in the society.
The day-long session began with a formal introduction of the facilitator to the gathering of Bank's women employees, followed by a warm welcome from Mr. Khaled Al Kayed, CEO, Bank Nizwa, who applauded the role of every member of the audience in shaping the fortunes of the Bank. He also congratulated Omani women on the glorious day designated to recognize their combined efforts in the progress of the society and the nation at large.
On this occasion, Ms. Haifa Abdul Ali Al Lawati, Assistant General Manager of Human Resources at Bank Nizwa, commented: "This day is an important day as it sheds light on Omani women, who are an integral part of the development in various areas including socially, economically and many others. This day also embodies the importance that our government is giving to the role of the Omani women in contributing towards the national development."
Ms Haifa added: "At Bank Nizwa, we embody this direction, where women constitute 31%, and we commend the effective role played by female employees in advancing the development of both Bank Nizwa and Islamic banking sector in the Sultanate of Oman. And this inspiring workshop comes in order to develop professional and personal skills of our female staff, which aims to enhance their capability in both professional and personal life".
As a coach, facilitator and mentor, Dr. Lamya, took the attendees on an inspirational journey of self discovery, with several short sessions that set the stage for thought change, leadership skills and activities that will spur atomic habits. She highlighted the importance of following an atomic habits approach to bring about a successful change in life. Referring to the popular book 'Atomic Habits: An Easy & Proven Way to Build Good Habits & Break Bad Ones' she explained how regular habits can lead to remarkable changes.
She urged participants to derive motivation from personal achievements of successful women, with a session on honing leadership skills through examples set by top women leaders in the country and the world. She provided insights on the Japanese concept of Ikigai, which translates as 'reason for living', and encouraged participants to find the source of value in their lives. A dedicated session on 'the power of EQ' saw her introducing the idea of emotional intelligence to develop self awareness and gain mastery over emotions.
Dr. Lamya further integrated a themed team building activity for the gathering of empowered attendees, who partook in the exercise with fervor, establishing their commitment and dedication to work as a team in the betterment of the organization.