Tuesday January 9, 2018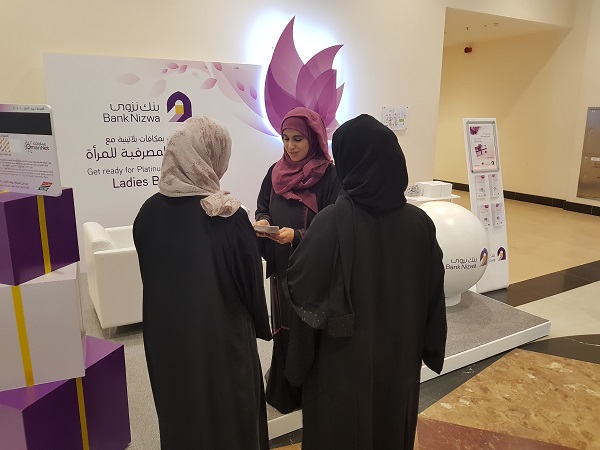 As part of its celebrations of Omani Women's achievements this year; Bank Nizwa launched a series of roadshows in several governorates to outline the many benefits of its Ladies Banking Account services. The roadshow aims to offer shoppers in Nizwa Grand Mall, Oman Avenues Mall, Muscat City Center, and Salalah Gardens Mall a gateway into Oman's growing Islamic finance sector. The bank is the first and only Islamic financial institution in the Sultanate to offer such an unprecedented range of Shari'a-compliant services exclusively to women, making a host of value-added services accessible to all.
Suhaila Al Ismaili, Senior Manager Card Products said, "We are dedicated to empowering women throughout the Sultanate with knowledge of Islamic finance. Our Ladies Banking services were developed by our experts to provide women with the tools necessary to achieve their financial goals, professional aspirations and suit the requirements of today's demanding lifestyle needs. With the full support of our Islamic finance specialists, women in Oman can broaden their investment and financial horizons to unprecedented heights with a wide range of tailored solutions dedicated and ready for them to avail of."
The bank's Ladies Banking Account offers a host of unique benefits designed to meet the exclusive needs of women in the Sultanate. Delivering preferential treatment in any of Bank Nizwa's 11 branch network, female customers also receive complimentary financial advisory services, exclusive access to lounges as well as discounts in a number of Oman's most popular hospitality and dining establishments.
Additionally, Bank Nizwa's Ladies Banking Account provides all customers with exquisite mother-of-pearl Platinum MasterCard® Debit Card featuring its own exclusive deals in Oman, the GCC and around the world.
Since its inception in 2013, Bank Nizwa, Oman's leading Islamic financial institution, has been offering a number of feature-rich Shari'a-compliant solutions to meet the wide variety of requirements facing modern banking customers. In addition to mobile banking, the bank offers its own app as well as instant access to a selective group of its dedicated experts.