Monday August 7, 2023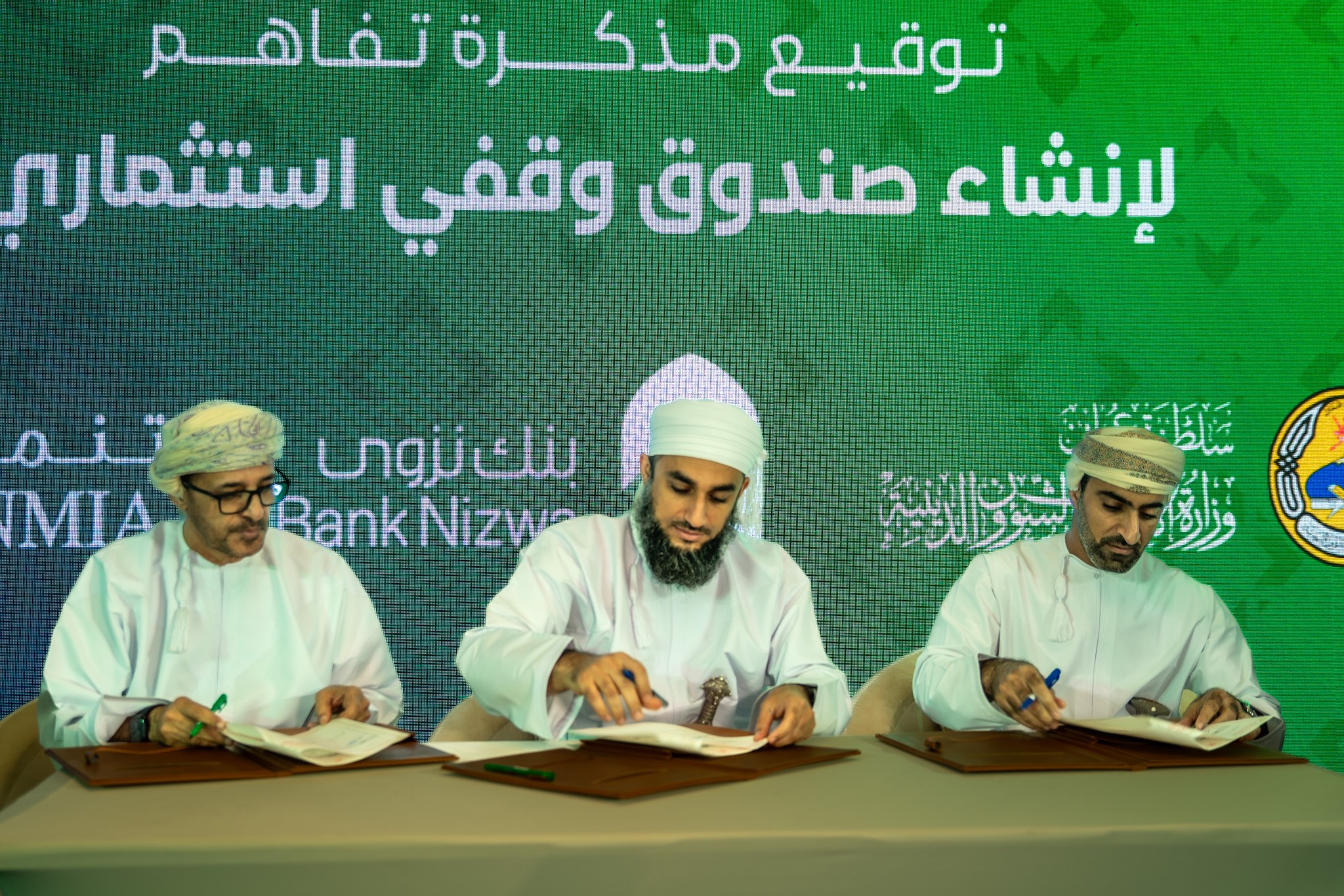 Bank Nizwa, in partnership with Oman National Investment Development Company TANMIA, The Ministry of Endowments & Religious Affairs, has taken a significant step towards promoting responsible and professional endowment investment opportunities in the Sultanate of Oman. The three parties have officially signed a Memorandum of Understanding (MOU) to establish the first-of-its-kind Endowment Investment Fund in Oman.
Khaled Al Kayed, CEO of Bank Nizwa, expressed his enthusiasm for the project, stating, "This joint effort to establish Oman's first Endowment Investment Fund reflects our commitment to fostering responsible investment practices that align with our cultural values and religious beliefs. Through this unique platform, we seek to encourage the public to make impactful contributions to society while earning competitive returns on their endowment investments."
On this occasion, an endowment forum was held where Dr. Mohammad Suwaileh, Sr. Manager Corporate Sharia Audit at Bank Nizwa, delivered a presentation entitled 'Determinants and Guidelines of Modern Endowment Investment.' The presentation aimed to introduce endowment investment, present its tools, and discuss modern investment governance, risk management, and compliance within it.
The objective of this pioneering MOU initiative is to create an avenue for individuals and institutions to invest their endowment funds in a carefully managed, Sharia-compliant investment vehicle listed on the Muscat Stock Exchange. The fund aims to provide the community with an attractive opportunity to channel their endowment money into well-established and professionally managed instruments, adhering to robust Sharia governance principles.
Bank Nizwa, the leading Islamic bank in Oman, will play a crucial role as the Shariah Advisor for the joint endowment investment fund. Their guidance will guarantee high level of compliance with Islamic principles, assuring investors of the fund's adherence to ethical and Sharia-compliant practices.
Under the MOU, the parties will collaborate closely to develop a comprehensive framework for the establishment of the Endowment Investment Fund. TANMIA, renowned for its expertise in investment management, will assume the role of the Investment Manager, ensuring prudent financial stewardship and maximizing returns for the investors.
The Ministry of Endowments & Religious Affairs will act as the driving force behind this transformative initiative, serving as the founder and promoter of the fund. The Ministry will take a proactive approach to create awareness about the fund's benefits, seeking to attract endowments and investments from within the local and regional communities.
A pioneer in Islamic banking, Bank Nizwa remains dedicated to providing its clients with innovative financial solutions and unrivaled service quality. With this collaboration, Oman is poised to set new standards in the realm of endowment investments, creating a positive ripple effect that will resonate both locally and regionally. The joint effort aspires to leave a lasting legacy of social impact and financial growth, harmonizing principles of Shariah with astute investment practices.