Sunday December 31, 2017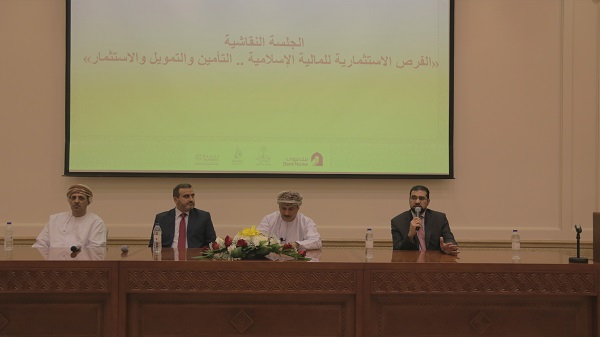 As part of their Islamic finance knowledge program, Bank Nizwa, Takaful Oman Insurance, and Al Kawthar fund organized their latest workshop in Sohar to highlight the promising and sustainable business opportunities available to entrepreneurs and Small and Medium sized Enterprises in the sphere of the Islamic finance sector. Focusing on development opportunities provided by Shari'a-compliant banking, investments and insurance, the program's third stop was held under the patronage of H.E. Sheikh Muhanna bin Saif Al Lamki, Governor of North Al Batinah.
Featuring an in-depth presentation by Mr. Mustafa Al Naabi, Shari'a Training Assistant Manager at Bank Nizwa, the workshop provided attendees with an overview of the concepts that shape Islamic finance, as well as their practical and theoretical applications. It also included a panel discussion featuring Mr. Khalid Al Kayed, CEO of Bank Nizwa, Dr. Shaban Mohamed Islam, Secretary and Member of Takaful Oman's Shari'a Supervisory Board, and Mr. Ahmed Kashoob, Head of Investment at TANMIA. The three experts shared key insights into the transparency and inclusive growth opportunities provided by the sector.
Mr. Khalid Al Kayed, CEO of Bank Nizwa said, "As the Sultanate's pioneers in Shari'a-compliant banking, we are dedicated to leveraging the growth opportunities offered by our sector by establishing an inseparable link between finance and the real economy. Our sector offers substantial scope for investments in infrastructure, economic diversification opportunities, job creation in multiple sectors. Inclusion of entrepreneurs and SMEs in the ongoing progressive economic development efforts in Oman will only bring the Sultanate closer to realizing the objectives of Vision 2020."
Dr. Shaban Mohamed Islam, Secretary and Member of Takaful Oman's Shari'a supervisory Board stated that, "As the demand for Islamic finance gains momentum in Oman, our role is further consolidated, as we provide a safety blanket of co-operation and risk-sharing for individuals and organizations opting for mutually beneficial agreements. We work as partners with our stakeholders, to effectively provide them with Takaful products tailored to suit their specific needs and meet their expectations."
Mr. Ahmed Kashoob, Head of Investment at Oman National Investments Development Company S.A.O.C "TANMIA", the managing company of Al Kawthar Fund said, "In order to ensure Islamic finance's continued growth, we work diligently towards maximizing the value for all our stakeholders in delivering a broad range of socioeconomic opportunities. It is our responsibility to stress the transformative role of the industry in propelling the economic diversification strategy outlined by the Government."
Bank Nizwa, Takaful Oman, and TANMIA have become the go-to-reference for Islamic finance, participating and organizing several initiatives to raise awareness on the industry across Oman. Their mutual efforts to educate communities and stakeholders on the benefits across the length and breadth of the industry have been maximized through its Islamic Finance Knowledge roadshow. Over the next coming months, the program will head to South A'Sharqiyah, A'Dakhliyiah, A' Dhahirah, Al Buraymi, North A'Sharqiyah, and Dhofar.