Wednesday March 14, 2018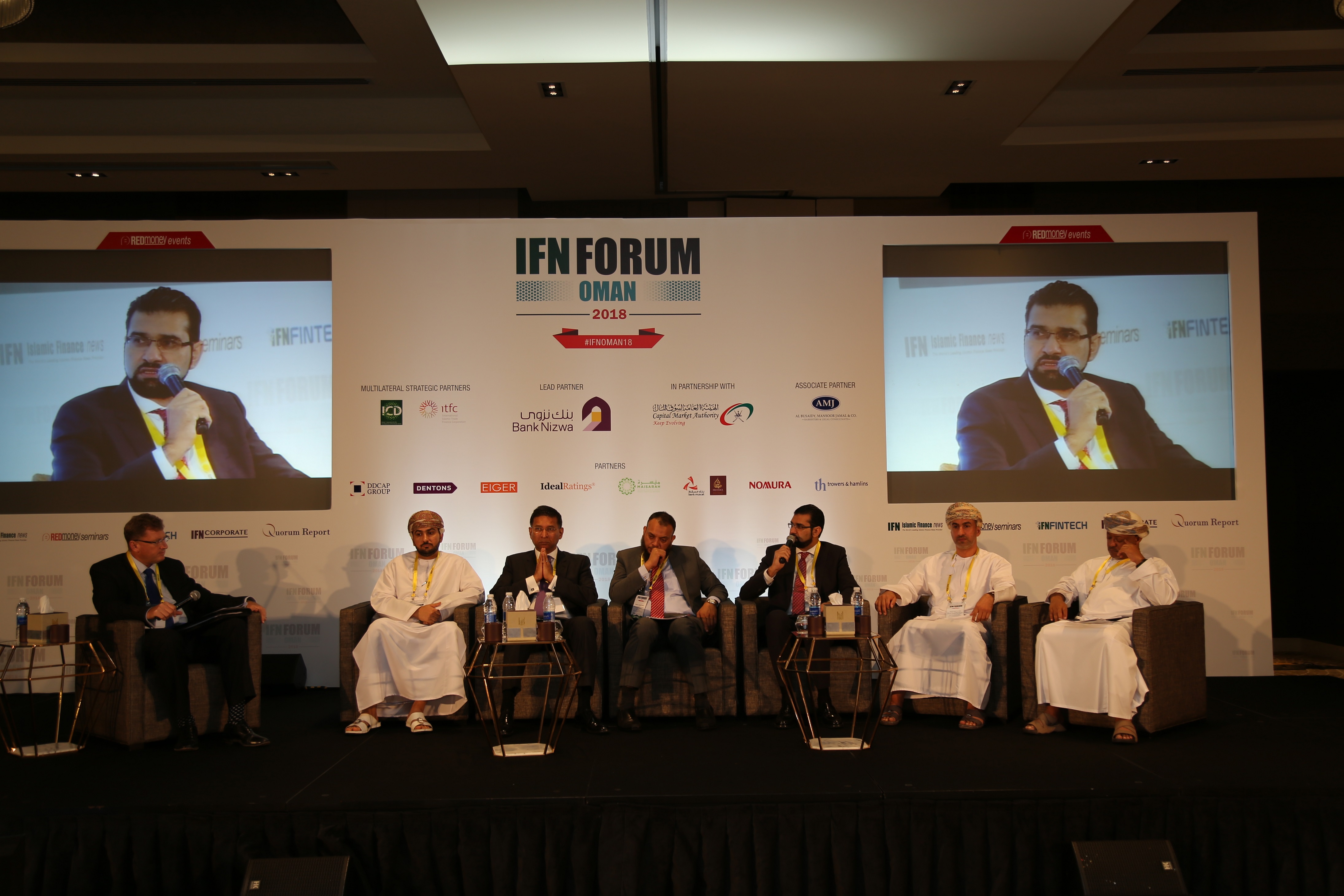 As lead partner, Bank Nizwa concluded an unprecedentedly robust level of participation in the third 'Islamic Finance News Forum', organized in partnership with the Islamic Finance News Magazine. Attracting a host of key-players and speakers in the sector, the highly regarded Forum saw five members of the bank's team speak and share industry insights during various panel discussions and workshops at the event.

Leading the bank's delegation was CEO Khalid Al Kayid, who took part in the main panel discussion of the forum, titled "Economic Development in Oman – Driving Growth though Islamic Banking, Capital Markets & Takaful." The panel which included a select group of industry influencers discussed Islamic banking, finance and investment in Oman and how the recent and future development of Islamic retail banking, capital markets and Takaful can promote economic growth and expansion in the Sultanate.

Khalid Al Kayed, CEO of Bank Nizwa, said, "Since Islamic banking started in 2013, one other bank and six Islamic window operations have followed. Together, with the full support of the Central Bank of Oman, we have nurtured our industry to reach a total market share of 11.6% of all bank assets in the Sultanate as of June 2017. Today Islamic finance in Oman is in a very strong, solid position and we anticipate that this will only grow as more communities, and businesses are exposed to the benefits our industry."

Touching base on the standalone Islamic bank model in Oman, Al Kayed explained that this model has been successful to date and well received, while presented with its own challenges. He said, "At the beginning, Islamic windows were auxiliary to Islamic banks in the launching phase by spreading awareness and products. Having standalone Islamic banks though ensures independent operations, dedicated products and services for consumers and most importantly, an even playing field for Islamic banks to compete against each other, rather than compete with the Islamic windows and their parent entities and ultimately benefit Oman's economy."

Also contributing to the forum was Bank Nizwa's Head of Market Risk, Operational Risk and Strategy, Salman Kabani, who joined industry experts in the panel discussion titled "Preparing for the Future: Financial Technology in Oman and GCC Region." In addition, Mr. Mohammed Sajari, Head of Sharia Structuring at Bank Nizwa participated in the panel discussion titled "Sukuk, Capital Markets and Investment Banking in Oman".
Commemorating years of growth, dedication and innovation, Bank Nizwa recently celebrated five years of operations as Oman's first fully-fledged Islamic bank. Bank Nizwa effectively combines Shari'a-compliant products and services with today's dynamic financial needs. Over the years, the bank has witnessed steady growth in its customer-base and product portfolio offerings as more people seek alternative solutions to conventional banking.