Thursday September 19, 2019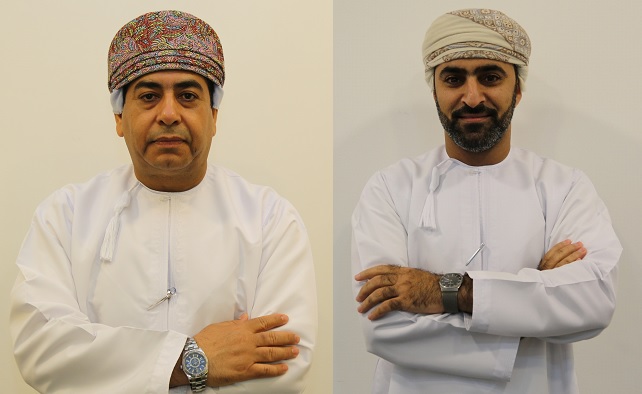 As part of Bank Nizwa's strategy to nurture and promote Omani talent, the Board of Directors of Oman's first Islamic Bank, has announced two key senior management appointments. Saif Al Rawahi was promoted from Head of Investment and Government Banking to Assistant General Manager of Investment, Treasury, Government Banking and Project Finance and Abdul Ghafoor Al Balushi from Head of Small & Medium Enterprises (SME) to Assistant General Manager SME. Bank Nizwa has a 91% Omanization rate despite being within the fairly new industry of Islamic finance in Oman. The bank is organically growing the next generation of experts to lead the industry now and into the future.
Khalid Al Kayed, Chief Executive Officer of Bank Nizwa said, "Today's business environment is complex, dynamic and unpredictable. With Islamic finance being a young industry in Oman, it is our responsibility to nurture human capital development for this promising sector. At Bank Nizwa, we believe talent management and establishing a corporate culture that encourages team members to thrive in their roles individually and collectively is paramount." He added, "Both Saif and Abdul Ghafoor have been instrumental in their respective roles driving Bank Nizwa forward and I am confident they will further excel in their new roles."
An industry veteran, Saif Al Rawahi has more than two decades of extensive experience in financial markets and wealth management. Since joining Bank Nizwa in 2014, he has been ushering key investment opportunities and strategic relationships for the bank with government entities and corporate clients, as well as high net worth individuals. Saif holds a Bachelor's of Business Economy from Staffordshire University in the UK and a Professional Diploma in Financial Markets, American Bankers Association, from the American Institute of Banking, Washington D.C, USA.
Abdul Ghafoor Al Balushi joined Bank Nizwa during the early years and is promoted to the new role after successfully driving the growth of the (SME) & Wholesale Banking Division. He was responsible for the SME business model product development, as well as training branch managers and assistant manager officials on credit initiation and approvals process. Abdul Ghafoor has a wealth of experience in Oman's banking landscape spanning for over 25 years, and holds a Bachelor's of Banking and Finance and a Master of Business Administration (MBA) from University of Wales Bangor in the UK. He also holds several professional certificates from different International banks like Credit Suisse, Commerze Bank, and Union Bank of California to name but a few.
Bank Nizwa continues to train and bring in the next generation of Omani talent to take the helm. The bank has adopted a proactive approach to talent development and has become the go-to source for Islamic finance in the Sultanate. It has also become the employer-of-choice for fresh graduates and veteran experts alike. Moving forward, Bank Nizwa will continue its efforts to raise awareness on Islamic finance. To date it has led several industry-leading initiatives including the nationwide roadshow, the Islamic Finance Knowledge Series and the annual Islamic Banking Knowledge Forum.