Wednesday April 4, 2018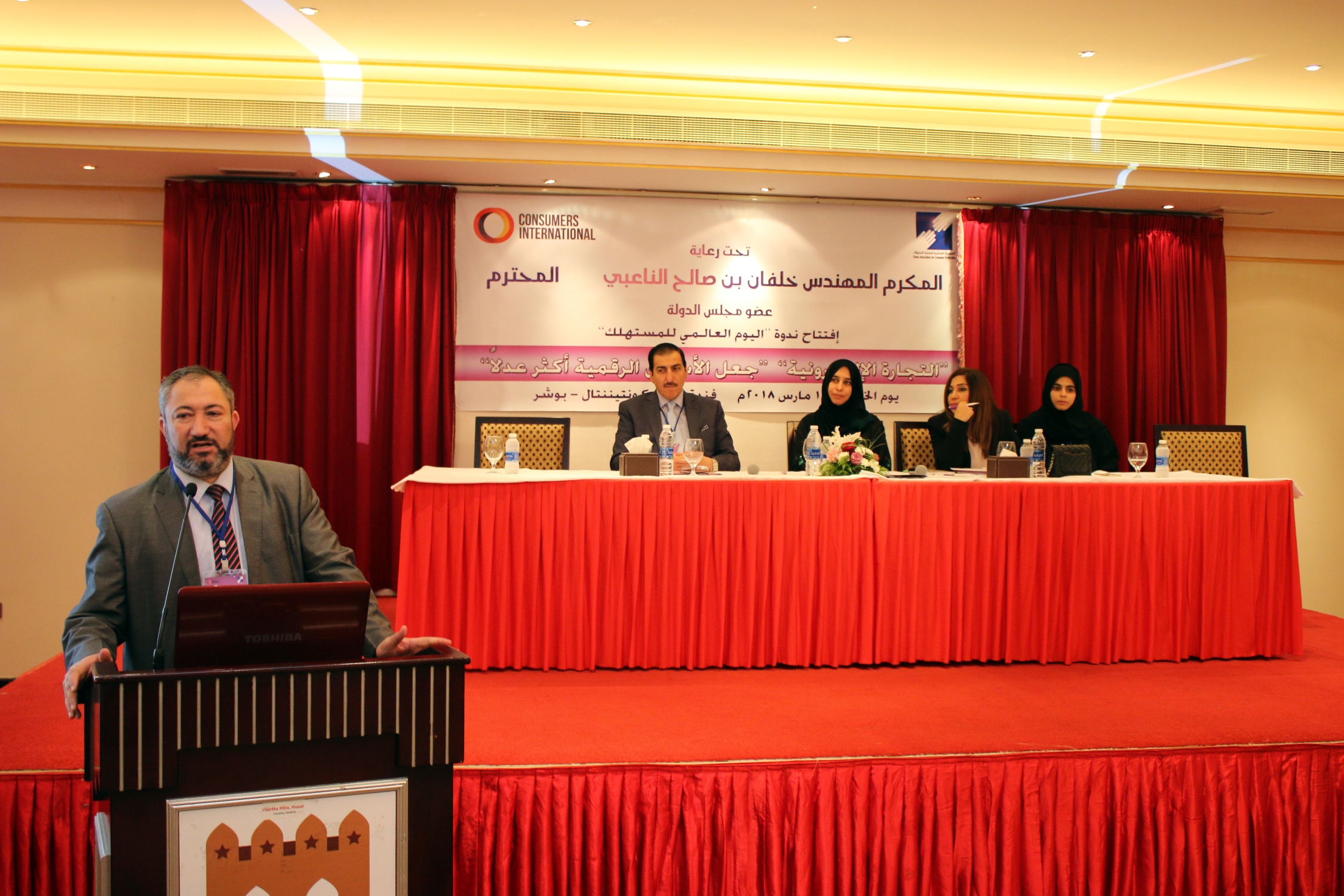 Bank Nizwa has recently participated at the World Consumers Rights Day conference organized by the Oman Association for Consumer Protection. Held under the patronage of State Council Member, Hon. Eng. Khalfan bin Saleh Al-Naabi, this year's conference came under the theme of 'Making Digital Marketplaces Fairer'. Attended by more than 150 industry leaders and experts, the bank's participation reflects its ongoing commitment to deliver a seamless digital banking experience boasting the highest levels of transparency and security.
Head of Shari'a-Compliance at Bank Nizwa, Dr. Mansour Al Qudah was one of the lead speakers who presented a working paper titled 'E-Commerce in the View of Islamic Law'. The presentation included an overview of the opportunities in alternative delivery channels, such as Shari'a-compliant e-banking that corresponds directly to nowadays shift towards digital banking. As the Islamic finance industry enters a new phase of growth in the Sultanate, Bank Nizwa proactively provides its growing customer base with quick, efficient and user-friendly mobile and e-solutions for added levels of convenience.
Dr. Mansour Al Qudah, Head of Shari'a-Compliance at Bank Nizwa, commented, "With the rise of digital banking and proliferation of e-markets, consumers' needs have played a significant role in shaping the world of e-commerce. This year's conference theme aims to promote more accessible, safer and fairer measures in digital marketplaces, which goes hand in hand with our commitment to building a solid foundation for Islamic banking in Oman."
Over the past five years, Bank Nizwa has continued to offer a unique banking experience that combines Shari'a-compliant products and services with today's dynamic financial requirements. Since its inception in 2013, the Bank has successfully become a go-to partner to a growing customer-base seeking constant innovations in terms of products and services. With a number of innovative and competitive propositions, its portfolio ranges from a full suite of personal banking solutions to relationship management and treasury products for global markets.