Wednesday October 25, 2017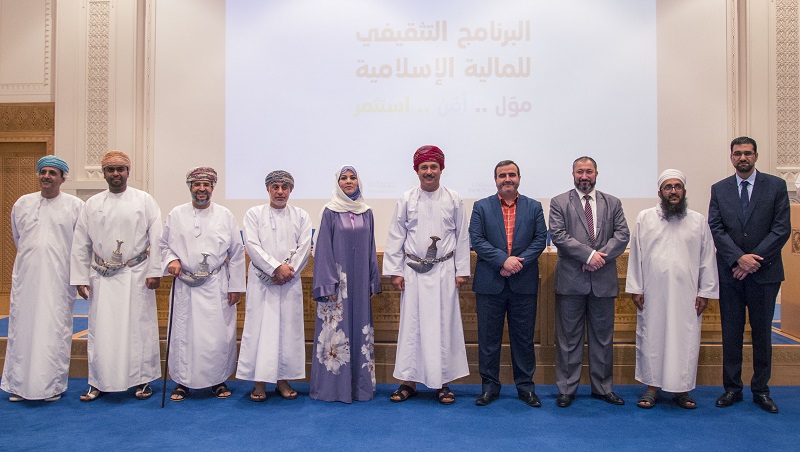 In execution of the Memorandum of Understanding signed among Bank Nizwa, Takaful Oman Insurance Co., and TANMIA–managed by Al Kawthar Islamic Fund– launched Oman's first roadshow specializing in Shari'a-compliant banking, insurance, and investment. The inaugural session was held in Muscat under the auspices of H.E Abdullah bin Salim Al Salmi, Executive President of Capital Market Authority.
During the launch event, Bank Nizwa's CEO Khalid Al Kayed highlighted the bank's experience in raising awareness of Shari'a-compliant banking and benefits associated with the new platform created in partnership with TANMIA and Takaful Oman.
Al Kayed said, "What we are launching here today with our partners Takaful Oman and Al Kawthur Fund will take this roadshow concept to even greater heights by sharing their best practices in Islamic insurance and investment. This initiative is designed to reach students, professionals, entrepreneurs, public and private sector employees. As the pioneers of Islamic banking, we are aiming to engage every segment of society to nurture our industry's growth and empower communities across Oman to lead financially secure lifestyles."
Sayyida Dr. Rawan Al Said, CEO of Takaful Oman Insurance, said, "Over the past few years, the Sultanate has undergone an exceptional growth trajectory in the takaful market. This is a direct result of Islamic insurance's ability to offer an effective alternative to conventional insurance methods and deliver a wealth of benefits that meet multiple lifestyle choices."
Sheikh Rashid bin Saif Al Saadi, CEO of Oman National Investments Development Company S.A.O.C "TANMIA", the managing company of Al Kawthar Fund, said "Islamic investment opportunities have provided many in Oman with a unique gateway to reaching their financial ambitions. The multitudes of ways our unique investment vehicles can potentially nurture high-return on investments have continued to boost economic performance throughout the Sultanate."
The roadshow is expected to be a perfect fit for citizens of different walks of life in addition to companies and businesses. The program will next head to the Muscat branch of the Oman Chamber of Commerce before continuing to the Governorates of South Al Batinah, North Al Batinah, South A'Sharqiyah, A' Dakhiliyah, A'Dhahirah, Al Buraymi, North A'Sharqiyah, and Dhofar.