Wednesday May 2, 2018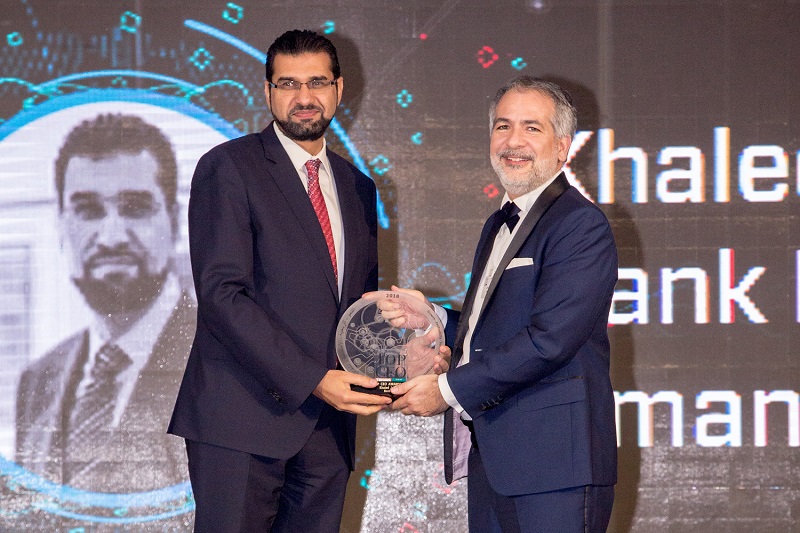 Bank Nizwa CEO, Mr. Khalid Kayed recently scooped the 'Top CEO Award' at the Fourth Edition of the TOP CEO Awards & Conference 2018. Held at King Abdullah Economic City in Saudi Arabia, the awards celebrated business leaders and senior executives across the Gulf Cooperation Council (GCC). The event was attended by industry pioneers and more than 30 thought leaders from across the Middle East to address and discuss the challenges facing the corporate world today.
The Top CEO Conference and Awards is a respected platform that carefully selects top leadership figures in publicly listed organizations classified based on performance during the fiscal year duly audited independently by one of the big four auditors, corporate governance under the criteria of timely submission of financial performance and reports, shareholder relations, share of information and transparency as well as the tenure of the CEO in addition to other variables.
Steadfast to spearhead the development of Islamic finance in the country, Bank Nizwa has been offering progressive Shari'a-compliant solutions to meet today's dynamic lifestyles. Added to that, Bank Nizwa has been leveraging the potential of Islamic financial tools to change the financial landscape of the Sultanate, empowering communities to flourish. Sustaining its leadership position the market, the bank has recorded year-on-year growth in its product portfolio while successfully executing its expansion strategies that aims to bring Islamic finance closer to customers.
Khalid Al Kayed, CEO of Bank Nizwa said, "This win is a valued achievement for Bank Nizwa as much as it is for its leadership team. This esteemed award demonstrates the determined efforts of the entire Bank Nizwa team to constantly innovate, empower the community and drive the growth of Islamic Finance across the Sultanate."

Since the start of Islamic finance in 2013 in Oman, Bank Nizwa has achieved notable growth and successes both locally and regionally through its dedication to introducing innovative products and services tailored to the needs of multiple market segments. In addition to this latest win, Bank Nizwa's long list of awards includes 'Best Islamic Services and Products in Oman' award at the third annual Arab Banks Awards and Commendations of Excellence, 'Strongest Islamic Retail Bank in Oman 2017' during the annual Islamic Retail Banking Awards (IRBA) and 'Pioneer Islamic Bank in Oman' award by the World Union of Arab Bankers.