Monday February 19, 2018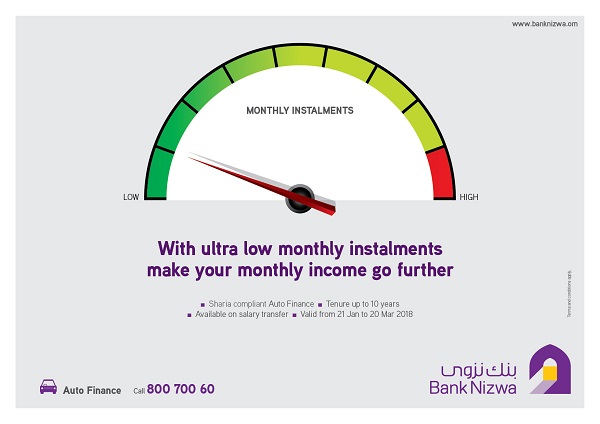 Catering to the high demand for its Shari'a-compliant auto finance solution, Bank Nizwa introduces its seasonal financing offer into the market until March 20th 2018. The bank's auto financing features a number of value-added benefits such as lower monthly installments due to a longer tenure and financing up to 10 years. With the bank's seamless approval processes and competitive profit rates in place, the product provides a one-stop shop for customers around the Sultanate.
Arif Al Zaabi, Acting Head of Retail at Bank Nizwa, said, "Since its launch in 2013, our auto-finance product has been well received across the Sultanate as more and more people look to avail of Shari'a-compliant financing solutions to own their vehicle of choice. Our offer is designed to ensure flexible and hassle-free procedures to meet the various requirements of our customers as well as incorporating their feedback. This offer is a strong indication of the bank's competitive Islamic financing solutions especially in the automobile sector."
Based on the Islamic financial concept of Murabaha, all transactions under Bank Nizwa's auto finance solution are available to all nationalities with complete transparency and no hidden or additional charges. For this offer, the customer simply has to transfer their salary to Bank Nizwa and the monthly instalments will be recovered from that account.
The offer is available at all of the 12 Bank Nizwa branches located across Oman including the mobile branch-on-wheels, which tours various car dealerships in Muscat providing greater convenience for customers. Additionally, the bank has a strong direct sales force which is available at various auto dealers and can visit the customers at customers' convenient time and location. Bank Nizwa also works closely with various auto dealers to deliver customer-centric solutions.