Saturday February 6, 2021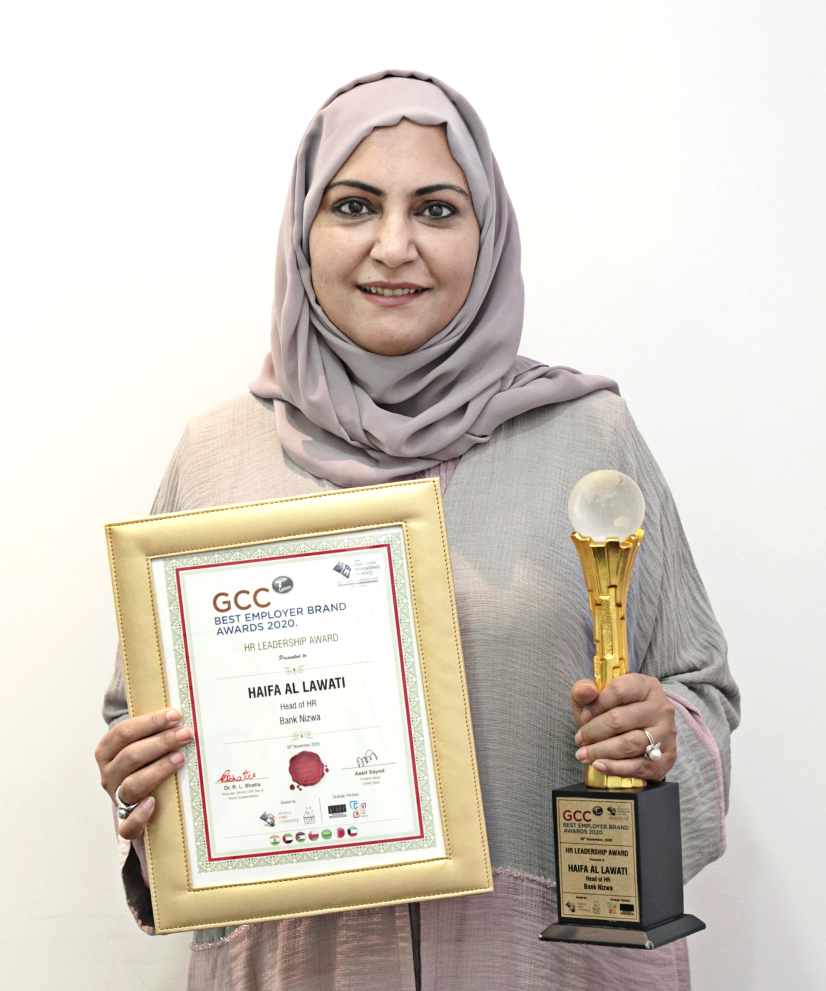 The recognition came as reflection of the banks strategic investment in its employees
Recognized as the leading and most-trusted Islamic Bank in the Sultanate, Bank Nizwa attributes a significant part of its success to its employees. Bank Nizwa's Head of Human Resources, Haifa Al Lawati, was recently awarded the prestigious HR Leadership Award by the Employer Branding Institute and World HRD Congress. The award, which is aimed at recognizing the most talented employees from across the region, is a prestigious title awarded to a select few individuals from around the world. 
Haifa holds over 17 years of experience in Human Resource Management and has been with Bank Nizwa since its inception. Currently, she is responsible to support and align the HR objectives with the Bank's overall vision, implement HR change initiatives to support the business strategy and work on continuous improvements in HR management to achieve organizational objectives.   
"Haifa has earned this award through her inherent leadership qualities, unique take on addressing new challenges and her dedication to strive for excellence," said Khaled Al Kayed, CEO of Bank Nizwa. "We believe she has demonstrated the capabilities of a true leader and plays an inspirational role for others in the organization. Bank Nizwa extends its heartiest congratulations to her on this momentous occasion."
Haifa's numerous skills include leadership, team building, project management, strategic thinking, problem-solving and creativity, negotiation and decision-making. She has cross-posting experience in Houston USA and also holds several important positions including the Board Secretary at HRC and a HR committee member at OBA. Haifa holds a B.Sc. in Computer Science from Sultan Qaboos University and an MBA from the University of Bedfordshire in the UK, with other professional accounting certifications. Her participation in the 5th Islamic leadership at Clare College University of Cambridge won her the Cambridge IBM award and she was also awarded at the GIFA for Human Capital Development.
"To be recognized by World Human Resource Development Congress is an incredible honor. Bank Nizwa has always encouraged its employees to work on enhancing their professional skills. Simultaneously, the bank has also been proactive in ensuring that its employees' efforts are duly acknowledged and receive the necessary recognition both locally and internationally," said Haifa Al Lawati. "This award is also a reflection of the values and principles Bank Nizwa adheres to which has taken us in the right direction to achieve new heights."   
Focusing on empowering its employees to make their mark on various global platforms, Bank Nizwa continuously takes various initiatives to encourage their growth. While being a customer-centric bank, it also ensures that its employees' well-being is looked after. For the benefit of its employees, the HR team at Bank Nizwa had also undertaken a complete revamp of all its services while also enhancing the digital portals to make it easier for the staff to access information in areas such as Personal Development, HR Awareness, HR Content, HR Services, and HR Support. While helping employees to acquire leadership qualities, this initiative also helps to manage talents better, plan succession channels, enhance productivity, aid in career development, and boost overall performance.
To raise the skill levels and empower Omanis for middle and senior management positions in the private sector, Bank Nizwa had also enrolled a few of its employees in programs like the National Leadership Programme called 'Etimad' while supporting others to pursue academic and professional qualifications that helped them add to their educational degrees and enhance their competency and professional development. To further enable the local workforce to take on key roles and become pioneers in their field, Bank Nizwa also enrolls several members from its management team to take part in the Cambridge Islamic Finance Leadership Programme (Cambridge-IFLP), which is the first and the only global leadership programme specifically structured for middle and upper-middle management personnel of Islamic financial institutions.
Bank Nizwa endeavors to set the stage for significant advancements in the human resource industry and will continue to work towards empowering the Omani workforce with skills, knowledge and experience in the Islamic banking sector so as to enable them to become drivers of change and contribute effectively to the country's economy.