Monday August 21, 2017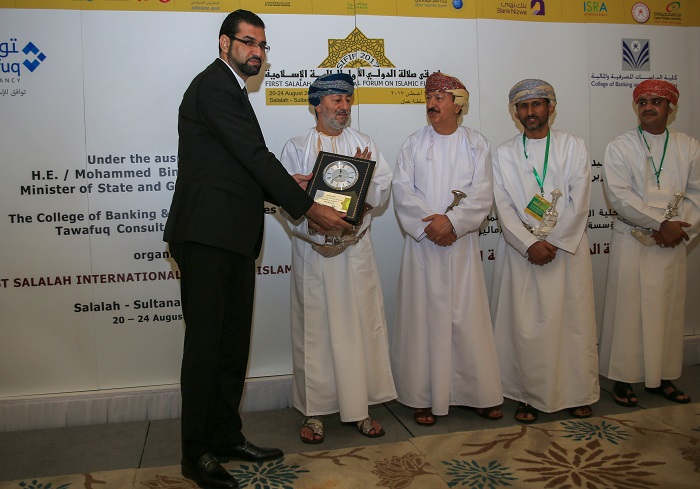 Muscat, August 21st 2017 – Bank Nizwa sponsored and participated the 1st Salalah International Forum on Islamic Finance in partnership with the College of Banking and Financial Studies (CBFS) and Shari'a-compliant experts Tawafuq Consultancy in Malaysia. The event discussed the role of Shari'a-compliant banking in economic development, promoted knowledge exchange among industry stakeholders, and identified solutions to common challenges faced by practitioners. Opened by HE Mohammed Bin Sultan Al Busaidi, Minister of State and Governor of Dhofar, and presented by HE Hamood bin Sangour Al Zadjali, Executive President of the Central Bank of Oman, the two day conference provided attendees with in-depth insights into the rapidly growing $2 Trillion USD global Islamic finance industry.
Khalid Al Kayed, CEO of Bank Nizwa, said, "The Islamic finance industry in the Sultanate has enjoyed robust growth since its launch several years ago, with total asset growth rate of Oman's Shari'a-compliant banking sector standing at 40 percent year-on-year since 2013. This highlights the potential for Oman to become a hub for Shari'a-compliant banking solutions."
On behalf of Bank Nizwa, Mundher Al-Ghazali, Assistant Manager Shari'a Compliance & Structuring, and Mustafa Al Naabi, Senior Shari'a Auditor, presented an academic paper on Islamic finance's structure and concepts. The paper analyzed the importance of understanding Shari'a-compliant financing, savings and leasing structures.

The event also served as a platform for industry professionals to share conceptual and empirical research papers on a number of relevant topics. The attendees explored the development of Islamic finance instruments, Takaful, and the industry's role in supporting small and medium enterprise (SMEs) growth among others.
Al Kayed added, "This conference highlighted the transformative role Islamic finance has on communities throughout the Sultanate and its ability in realizing the economic diversification strategy outlined by the government. By bringing together stakeholders and researchers from across the world, we are nurturing the growth of Shari'a-compliant banking in Oman and facilitating greater understanding among all practitioners for the benefit of our customers, investors, and shareholders."
Since inception in 2013, Bank Nizwa has been the go-to-reference and ambassador for Islamic finance in Oman participating and organizing several initiatives to enhance and elevate the awareness on Islamic banking across the country, while developing future leaders who can advance the industry in the years ahead.
Bank Nizwa's dedication to bringing the benefits of Shari'a-compliant banking to people across the Sultanate has led to the development of numerous forums, seminars, and workshops over the years. Its efforts include the establishment of the Islamic Finance Knowledge Series, the Islamic Banking Knowledge Forum, and collaborations with higher educational institutions from around the world.