Monday October 9, 2017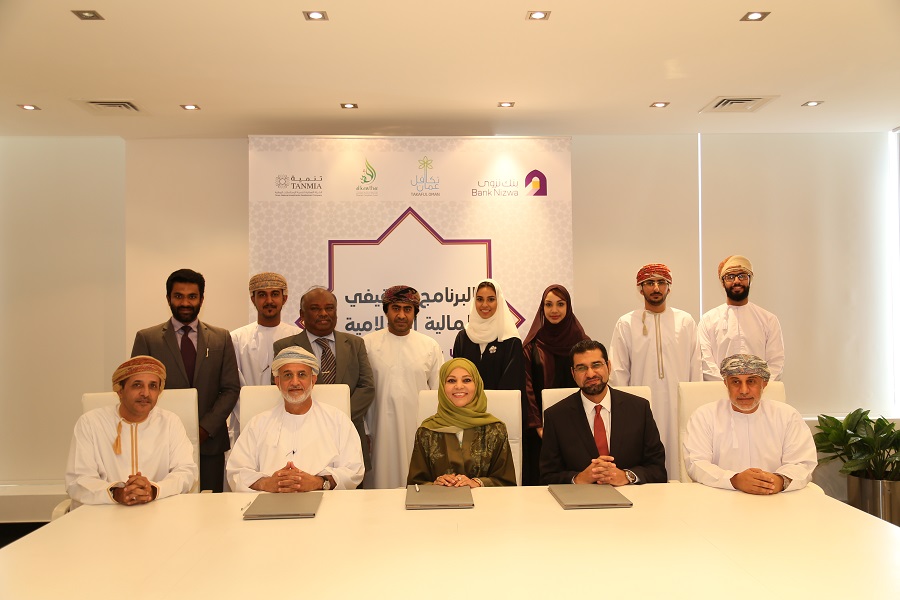 Bank Nizwa has hosted this morning the signing ceremony of a MoU partnered with Takaful Oman Insurance Co and Al Kawthar Islamic Fund managed by "TANMIA" to organize the Sultanate's first roadshow that will shed light on Shari'a-compliant financial tools including banking, insurance and investment. The program, titled 'Islamic Finance Knowledge Program', will be held across multiple governorates and is set to feature presentations by some of the most respected figures in the Islamic financial sector, panel discussions, and participation from senior Shari'a-compliant scholars.

Commenting on the signing ceremony, Khalid Al Kayed, CEO of Bank Nizwa, said, "Our partnership with Al Kawthar Fund and Takaful Oman joins our longlist of initiatives developed to raise awareness on Islamic finance. This roadshow will provide a solid entry point to understanding the multifaceted benefits of our rapidly growing sector. It is also meant to enable Oman's business community to realize their full potential through the products, services and opportunities created by the tailored solutions we provide."

Sayyida Dr. Rawan Al Said, CEO of Takaful Oman Insurance, expressed her pleasure in this occasion and stated that, "What distinguishes Takaful Oman Co from any other insurance provider is our ability to provide a comprehensive Shari'a-compliant Takaful coverage achieving the highest possible protection and security in all areas of Islamic insurance to customers, and ensure that all insured businesses and individuals alike receive the coverage they need without unnecessary risks. We look forward to sharing our full product portfolio and the values that have allowed Takaful Oman Co to enjoy steady growth over the past few years."

Sheikh Rashid bin Saif Al Saadi, CEO of Oman National Investments Development Company S.A.O.C "TANMIA", the managing company of Al Kawthar Fund, said "We are proud to join hands with two of Oman's leading Islamic financial sector players. Our participation in this roadshow will provide investors with a comprehensive understanding of the advantages provided by Islamic investment opportunities ranging from the benefits of diversifying portfolios to their greater resilience to economic fluctuations. Added to that, Al Kawthar Fund is registered and governed by regulation of Capital Market Authority (CMA) listed in Muscat Security Market (MSM)."

The roadshow is expected to be a perfect fit for citizens of different walks of life in addition to companies and businesses. Attendees will learn firsthand the advantages provided by Islamic financial products and explore the link between different Islamic financial institutions from various aspects, where Takaful insurance is connected to Islamic Banking and the latter is connected to Islamic investment across a wide spectrum of services.