Monday June 21, 2021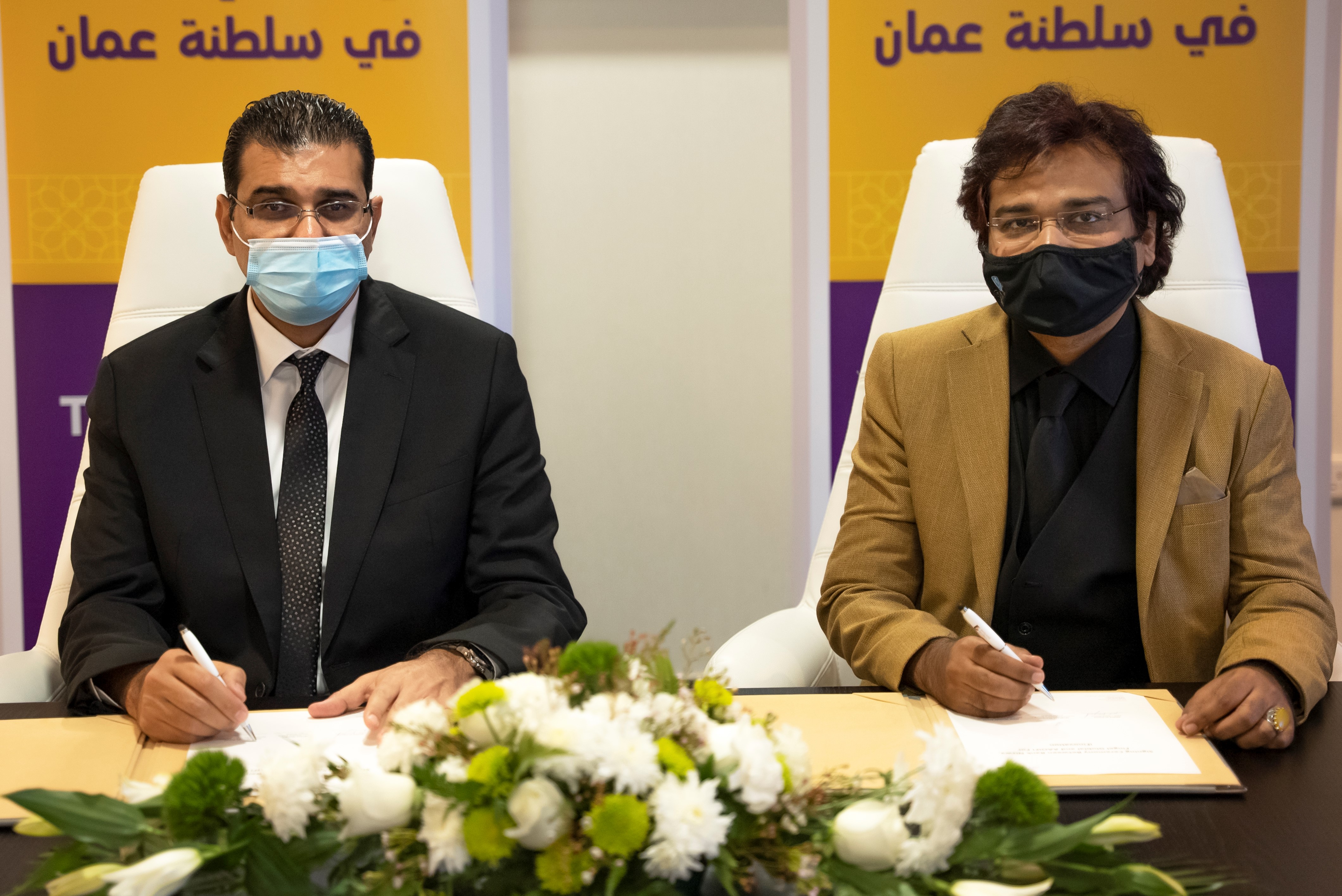 Bank Nizwa's ability to innovate and introduce new sharia-compliant financial services has earned it commendable recognition and established it as the leading Islamic bank in the Sultanate. The Bank has been at forefront of progressive change in the Islamic banking industry, building awareness around the sector's products and service offering. Continuing with this commitment, Bank Nizwa has partnered with Accounting and Auditing Organization for Islamic Financial Institutions (AAOIFI) and Fingel Global to host a series of webinars under the name iFinovation (Islamic Banking Knowledge Series). 
The agreement was signed virtually between the organizations as they announced the commencement of the program. The virtual signing ceremony was attended by Khalid Al Kayed, CEO of Bank Nizwa along with other members from the executive management of the bank. Other distinguished guests included Mr. Omar Mustafa Ansari, Secretary General at AAOIFI, Mr. Mughees Shaukat Chairman Advisory Board Fingel Global Inc, Canada, Dr. Muhammad Fuad who is the President of ASAS, Malaysia as well as Mukhtar Abdullah CEO of ASAS Malaysia. Other important individuals were Mr. Mohammed Kateeb, CEO of Path Solutions and Tan Sri Syed Jalauddine, Senior Advisor of FGI. The signing ceremony also witnessed the participation of key local dignitaries.
With a goal to spread awareness about Islamic finance among the masses as well as share the latest trends, developments and achievements of the sector, this virtual event is slated to be the first of its kind in the Sultanate. The entire program, which will be conducted on virtual platforms, will be attended by top Islamic banking and finance veterans and experts who will shed light on innumerable related topics through the course of expert lecture series.
"Bank Nizwa has been leading the way in Islamic banking and it is through partnerships like these that we endeavor to reach even more people and spread awareness about the benefits of Islamic banking. AAOIFI and Fingel Group mirror the same ambitions as we do and we are certain that our collective efforts will make iFinovation a huge success," said Mr. Khaled Al Kayed, CEO of Bank Nizwa. "Bank Nizwa always encourages its team members to take the lead on various initiatives and iFinovation will see key officials from the bank sharing their inputs in their respective areas of specialization. In the past, the bank has been an active participant in several Islamic finance conferences with other industry leaders, prominent regulators and standard-setting organizations. We hope to take this commitment to the next level with iFinovation."
Bank Nizwa has always been keen about promoting the concept of Islamic banking and had launched a special awareness initiative under the name of Islamic Banking Knowledge Series which targets various stakeholders including colleges, universities, public and private institutions across the country to deliver briefing session on the concept of Islamic finance. Through initiatives like these, Bank Nizwa has reached thousands of students and members of the communities across the country.
Commenting on the joint initiative and the partnership, Omar Mustafa Ansari, Secretary General, AAOIFI, Bahrain, said, "Bank Nizwa has established itself as a leader in the industry and has demonstrated an unfaltering dedication to ensure that the concept of Islamic finance reaches every corner of the globe. The iFinovation seeks to bring such passionate leaders in the industry together to share the knowledge, inspire others and continue creating awareness about Islamic finance across the globe."
iFinovation is a convenient, cost-efficient and more agile way of reaching a wider audience. It helps ensure that quality sales leads are also generated and nurtured. An online format also makes sure that the content remains accessible at any time to all those who have registered, therefore enriching the organization's online content too. The webinars will cover an array of topics that range from Islamic Financial Contracts and Products, Regulation and Supervisory Framework in Islamic Banking and Finance, and Islamic Wealth Management, Social Finance and role of Waqf to Economic Diversification, Impact of COVID-19 and role of Islamic Banks, the digital future and Fintech Applications in Islamic finance, and the risk management andAML, cyber security, VAT and Climate change in Islamic Finance, amongst many other topics. With a unique content style that allows for informal conversations, audience involvement through live polls, and live question and answer sessions to address specific queries, it also features a special panel debate which offers an opportunity to generate conversations with the audience and increase engagement. The registered participants shall receive high powered attendance certificates backed by known international technology and Islamic financial bodies.
"Through the pioneering iFinovation initiative, we will bring together popular thought leaders, subject matter experts and case study examiners, as well as academic and industry experts. These individuals are skilled top-notch officials who are not just well-versed in their fields, but also reflect utmost passion in what they do, driving new age Islamic Finance in Oman" said Mughees Shaukat, Chairman Advisory Board Fingel Global Inc, Canada.
By participating in global programs like these, Bank Nizwa stays abreast with the changing dynamics of the Islamic finance segment and continues to lead the way with innovative strategies, campaigns and rewards for its clients.