Wednesday December 15, 2021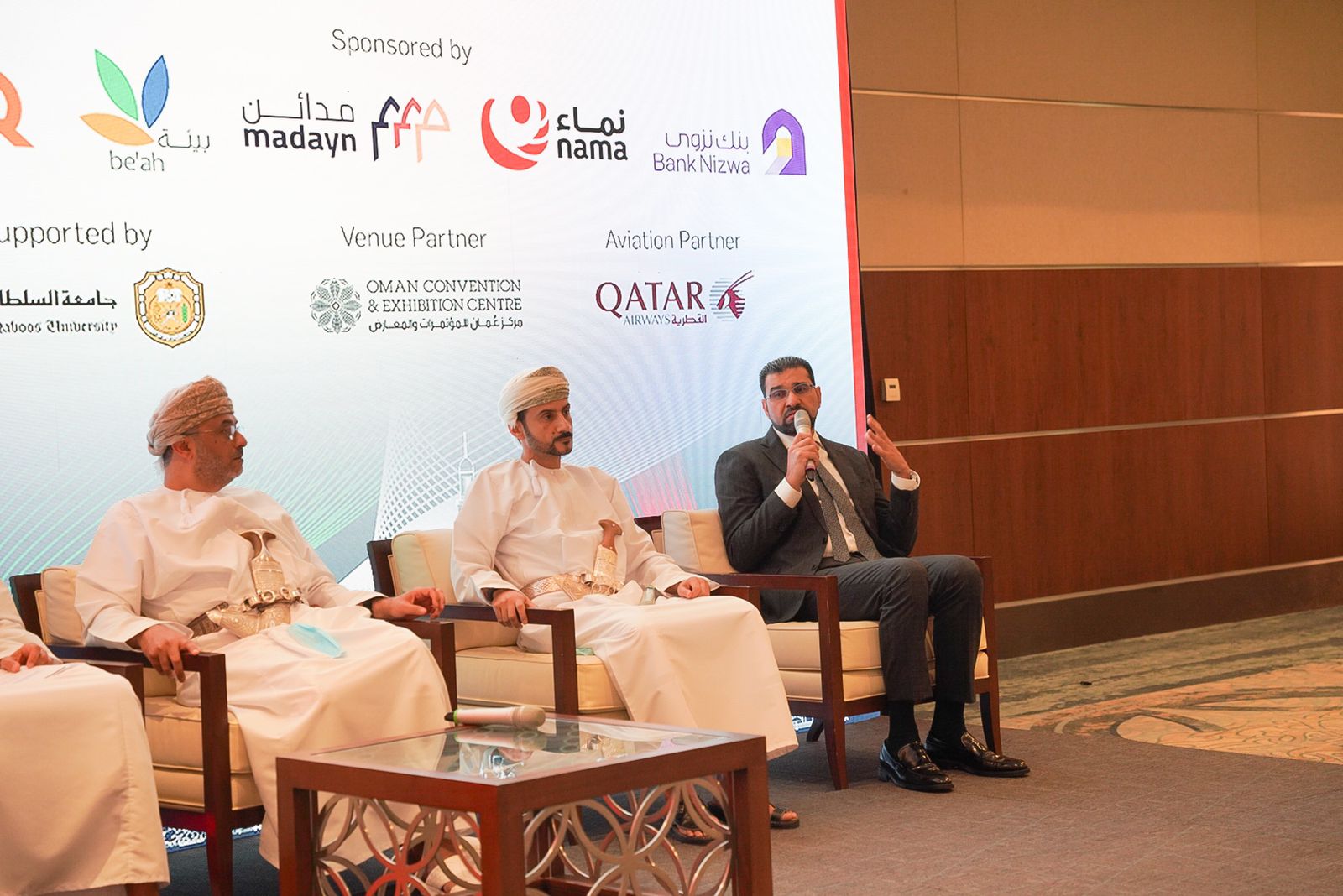 As the leading Islamic bank in the Sultanate, Bank Nizwa has been spearheading several unique initiatives that help raise awareness on various aspects of Islamic Finance. In its most recent endeavor, Bank Nizwa participated as the official banking partner of the The Business Year conference, wherein the Bank's CEO, Mr. Khalid Al Kayed, participated as a panelist and highlighted the importance of achieving digitalization in all products, processes and operations, as well as the contribution of Islamic Banks in the economic diversification of the Sultanate.
The Business Year conference was held on 12 December 2021 at the Oman Convention and Exhibition Centre under the patronage of His Excellency Qais Al Yusuf, Minister of Commerce, Industry and Investment Promotion and was attended by key officials and top executives from different sectors. The event, titled 'Oman Vision 2040: The Future of Investment', discussed the role of Vision 2040 in driving innovation in Oman's socio-economic transformation.
Speaking as part of the panel, Al Kayed pointed, "The banking sector plays an important role in the Sultanate's economic growth and social development. Its pivotal for the sector to contribute to national agendas of socio-economic development through digital innovation as well as strategic financing, thereby aiding the diversification process. At Bank Nizwa, our Project Finance and Syndication department strongly and dedicatedly supports the government's diversification plan and continues to do so by playing a crucial role in Oman's 2040 vision. Moreover, the Bank understand that all operations and processes in this regard must be automated and transformed to fit latest technological advancements. The new normal has given an impetus to technological innovations and banks need to stay abreast in meeting this demand. It is also important to understand that innovation and diversification are not final targets but a medium to achieve greater socio-economic sustainability."
Under its digital transformation drive, Bank Nizwa has successfully enhanced its customer experiences, achieved greater operational efficiencies and redefined its business model.
"Our efficient, secure and reliable banking channels have encouraged customers to conduct business as well as day-to-day transactions online. Providing a seamless online banking interface has helped businesses, whether SMEs or large corporate companies, to focus on their core business while automating regular payments and reducing the time spent on other banking operations," added Al Kayed.
With several companies moving to an online platform during the pandemic and a resultant surge in online business activity, Bank Nizwa has been at the forefront of supporting these businesses by processing payment solutions for them. It also encouraged various businesses to consider going online by providing them with secured cloud platforms to host and conduct their business safely.
Setting an example for others to follow, the bank waived off transaction fees during the lockdown. This helped boost online transactions which saw a phenomenal growth of four times its original volume. In addition, to help businesses prepare for VAT implementation in the second quarter of the year, Bank Nizwa played an instrumental role in supporting customers to manage the tax payments and calculations. By providing point of sales (POS) solutions to businesses, the bank also helped them have more control over their cash flows.
"While banks are doing their part in promoting digitalization, we also appreciate the efforts taken by CBO to further enhance the digital ecosystem. CBO's policies and regulatory framework has given thrust to technology adoption, achieving the digitalization goals as outlined in Oman Vision 2040," added Mr. Al Kayed. "Bank Nizwa has proved that organizations that remain invested in achieving digitalization can grow faster, enhance their operations and reach new heights of success."
Backed by a dedicated team of Islamic banking professionals, Bank Nizwa has, on several occasions, joined hands with industry experts, entrepreneurs and prominent academic figures to spread awareness on ethical and more responsible digital practices in business. Through efforts like these, the bank has played a vital role in promoting digitalization in the banking sector and the community.