Wednesday December 29, 2021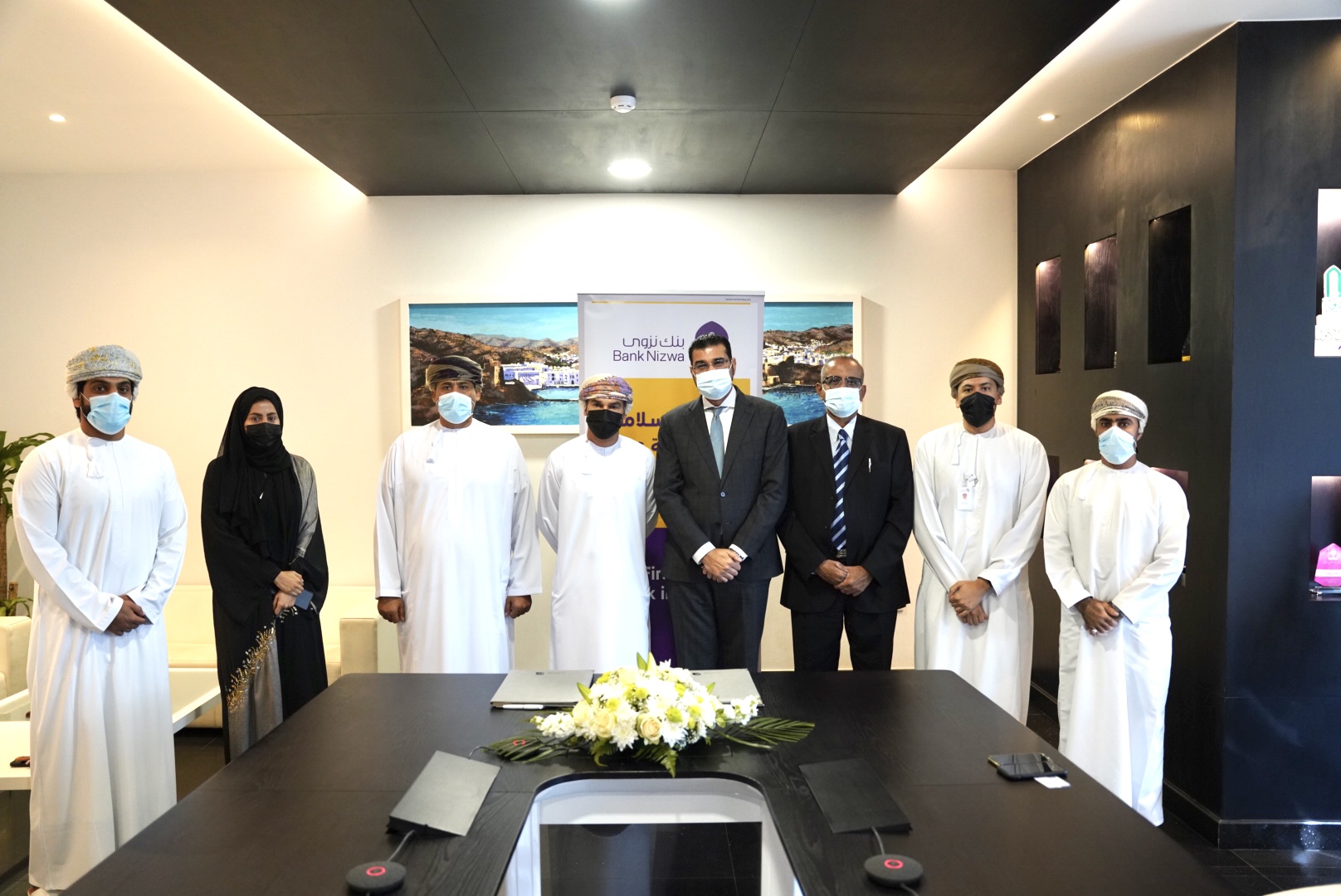 As the Sultanate's leading Islamic bank, Bank Nizwa is in strong alignment with the country's diversification plans and has taken several initiatives to contribute to the development of various sectors. The Bank, today, celebrated and marked the official opening of the Khazaen Dry Port, which falls under the pillars of the National Logistics Strategy 2040. Bank Nizwa has recently extended financing facilities to help build the dry port.
The agreement was signed by Mr. Khalid Al Kayed, CEO of Bank Nizwa and Dr. Ahmed Mohammed Al Abri, Chairman of Khazaen Dry Port. The signing ceremony was held in presence of senior members of Bank Nizwa including General Manager- Wholesale Banking Mr. Narasimhan. From Khazaen Dry Port, the ceremony was attended in-person by Mr. Issam Al Lawati, GM of Khazaen Dry Port.
Commenting on the financing of this national initiative, Mr. Khaled Al Kayed, CEO of Bank Nizwa said, "Offering exceptional connectivity, the Khazaen Dry Port is set to serve as a trans-shipment point and will be a logistics hub that will link the Sultanate to a number of countries. At Bank Nizwa, we view this as an opportunity to contribute to the socio-economic and infrastructural development goals of the country as the establishment of this dry port will have numerous positive implications on the economy. By supporting large-scale projects that offer tangible added value to the national economy, Bank Nizwa seeks to highlight the growing preference of Sharia-compliant financing while also establishing its distinct footprint in the country's journey of progression."
The primary objective of Khazaen Dry Port would be to serve the Sohar Port while focusing on the trade activities in Muscat and nearby areas such as Nizwa, Sur and Ibra. After its development, the movement of empty containers will be significantly minimized, resulting in lower transportation costs for consignees and empty container storage costs for shipping lines. An integrated transportation system will also help achieve better margins and increase the overall economic activity within Khazaen Economic City and Oman.
"With most of the Sultanate's trading activities being routed through Muscat and the adjoining areas, the establishment of the Khazaen Dry Port will be instrumental in facilitating trade activities and developing an integrated logistic system that will enhance performance, drive economic growth and position Oman as a global logistics hub," said Dr. Ahmed Mohammed Al Abri, Chairman of Khazaen Dry Port. "We appreciate Bank Nizwa's efforts in playing an integral role in the development of Oman's critical infrastructure. The proposed dry port will have a total area of approximately 30 hectares including 20 hectares for interlock and 41,928 square meters for container stacks. To successfully carry out a project of this scale, it is imperative to have the right support from a financial institution that is reliable and is aligned with the goals of the country."
The logistics sector is perceived as one of the five priority sectors of Oman Vision 2040 given its crucial role in attracting many investment opportunities and projects. The establishment of the Khazaen Dry Port will help in accelerating trade while also achieving sustainable economic growth. Bank Nizwa's keenness in financing the Khazaen Dry Port is a testament to the bank's dedication to supporting strategic projects which are of national importance.
Bank Nizwa's corporate financing has closed several milestone transactions in different segments like manufacturing, utilities, retail, hospitality, aviation, logistics, tourism, education, waste management, metals and mining, medical, food sectors, and also fast-expanding sectors, like infrastructure and utilities. The Bank has been undertaking various other initiatives that have helped fuel the economy, positively affecting the local communities and generating employment for the local workforce. Establishing itself as a leader in Sharia-compliant solutions, Bank Nizwa continues to diversify its client portfolio and invest in projects keeping in mind the best interests of the country.