Tuesday May 1, 2018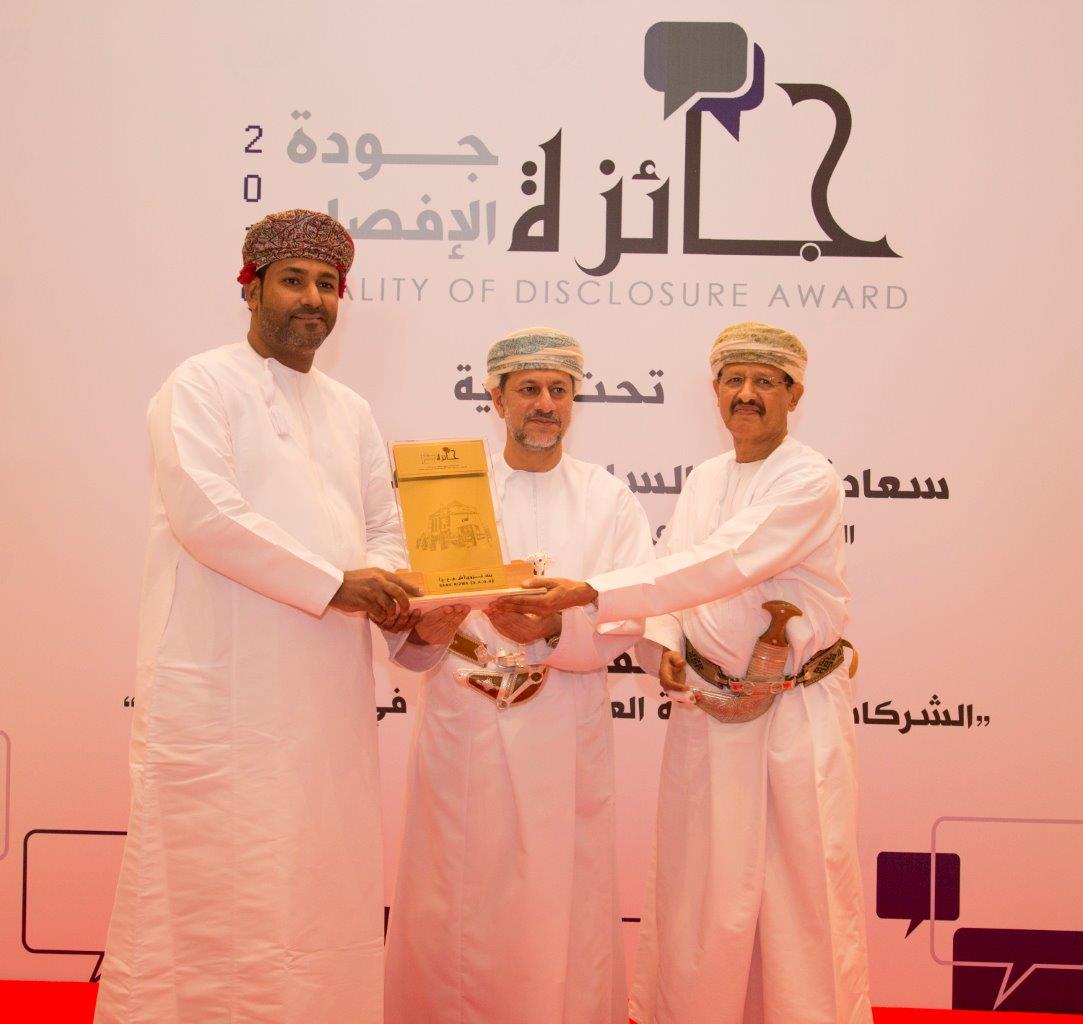 Reiterating its role as the people's trusted partner, Bank Nizwa was awarded with the Excellency in Financial Disclosure Award at a ceremony at the Muscat Securities Market. Held under the patronage of His Excellency Abdulsalam bin Mohammed Al Murshidi, Executive President of the State General Reserve Fund, this latest accolade joins a string of prestigious awards that celebrates the bank's commitment to providing customers with an unmatchable banking experience derived from the Islamic ideals of transparency and integrity.
As a trusted partner and financial advisor, Bank Nizwa has maintained a firm commitment of sustainable growth through the delivery of unparalleled quality and service based on its foundational belief of reliability and honesty with all its stakeholders. The bank's dedication to help raise awareness of the opportunities and benefits of Islamic finance has always been built on the deeply rooted values of Islam. That commitment has enabled the bank to exceed the expectations of both customers and stakeholders. Through setting benchmarks for excellence, Bank Nizwa is maximizing shareholder values by ensuring consumer protection and providing strategic advisory services.
Khalid Al Kayed, CEO of Bank Nizwa said, "It is an honor to be distinguished as a industry leader for Bank Nizwa's core values, accountability and transparency which are essential aspects of operations for any successful Islamic or conventional financial institution. Winning this award is indeed a testament for the bank's unwavering commitment to partner with its customers in their financial journeys."
He added, "This recognition is a reflection of Bank Nizwa's team members' efforts to position the bank as a trustworthy and innovative institution that leads by example within the local and regional banking community."
Since inception in 2013, Bank Nizwa has been directing its efforts towards introducing advanced Shari'a-compliant tools, expanding its branch network and raising awareness. Reconsolidating its position as one of Oman's fastest growing financial institutions, the bank has leveraged the potential and benefits of Islamic banking across the Sultanate. Bank Nizwa has been proactively paving the way in Islamic finance in Oman by providing innovative solutions and catering to various market segments contributing to the diversification of the nation's economic resources. In addition to the most recent award, the bank has won the 'Pioneer Islamic Bank in Oman' award by the World Union of Arab Bankers and the 'Best Islamic Services and Products in Oman' award at the third annual Arab Banks Awards and Commendations of Excellence, to mention but a few.