Saturday May 12, 2018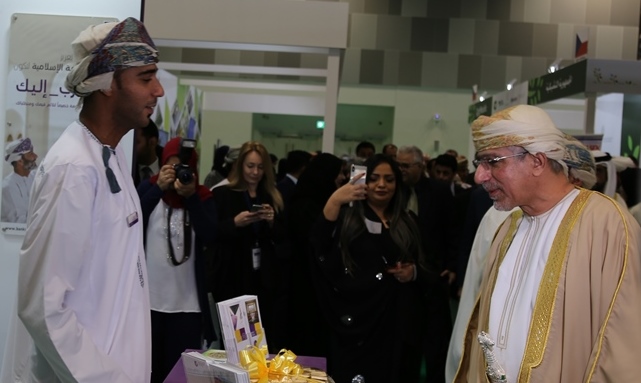 Being the first Islamic bank in Oman and leading advocate to the benefits of Islamic finance, Bank Nizwa, participated in the World Halal Food Assembly Oman conference 2018. The bank's delegation stressed the tremendous potential that exists in the area of halal food in the Sultanate. The two-day conference was held alongside the Agro-Food Oman Exhibition and featured Omani and international experts.
In addition to sponsoring the event, two experts from Bank Nizwa took part in the conference's proceedings. Mohamad Noranuar Bin Sajari, Head of Sharia Structuring gave a presentation on Islamic Finance for Small and Medium Enterprises (SMEs) and took part in a panel discussion along other experts to discuss the topic of economic diversification and relevance of Islamic finance to support the conference's agenda. The other representative of the bank was Salman Kabani, Head of Market Risk, and Operational Risk & Strategy, who participated in a panel discussion titled "Way Forward to Promote Halal Trade in Oman".
Mr. Sajari said, "The growing Muslim population worldwide, combined with the increasing demand for halal products from Muslims and non-Muslims has spurred the rapid development of the halal industries, including food, clothing, finance and tourism." He added, "The global halal economy and the Islamic finance industry are natural economic partners. A proper integration between the two ensures Sharia-compliance not only in delivering and manufacturing the end-products to consumers, but also in the provision of funding and ultimately contribute to developing that sustainable halal ecosystem whether in food, trade or the Islamic economy in general."
Mr. Kabani said, "There is no better time to capitalise on the rapid growth of Islamic finance especially in the Sultanate. The Islamic economies and financial institutions are in a strong position to cater to the halal industry not only due to their large asset size but also leveraging the fact that they can provide innovative and up-to-date Shari'a-compliant financing tools." He added, "Increasing the synergy between the global halal industry and the Islamic finance industry will spur the creation of new halal businesses and the expansion of halal trade."
In principle, halal industries and Islamic finance should not be deemed separate as both sectors fall under the same umbrella of Shari'a. The collaboration of the industry can lead to a harmonious system that can support each other. Consequently, an Islamic financial system through Islamic banking and capital market instruments will channel their long term funding to other Halal industry tools and applications.