Wednesday June 1, 2022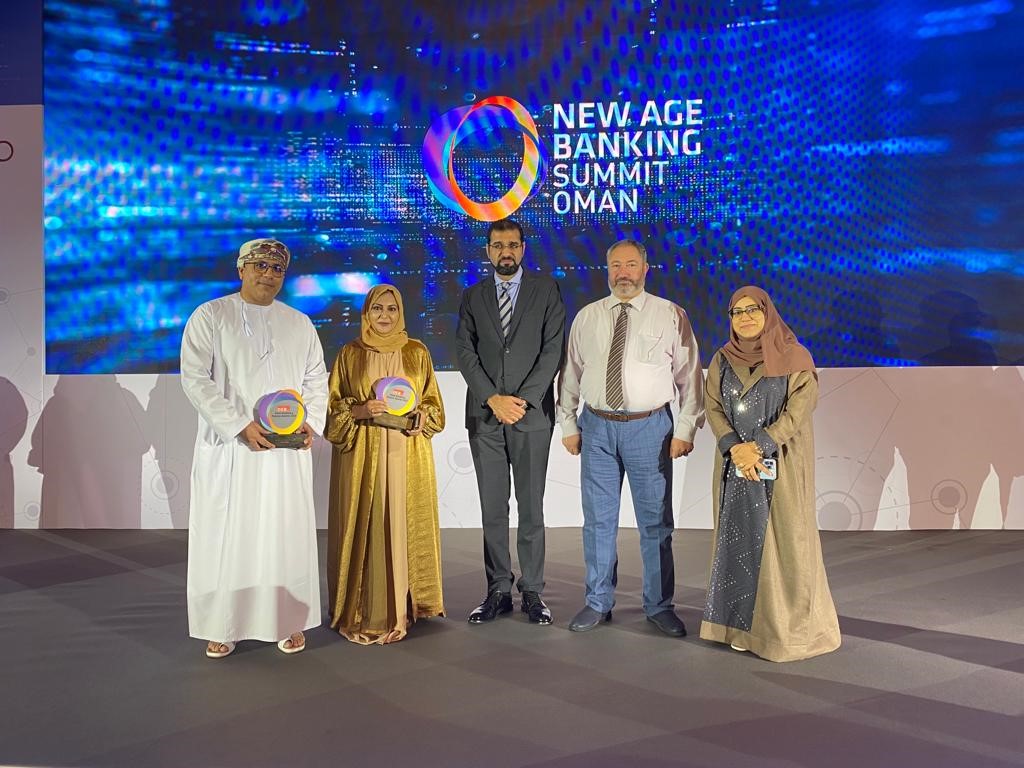 In recognition of its efforts in driving digitalisation and enhancing customer experience, Bank Nizwa, the leading and the most trusted Islamic bank in the Sultanate, was awarded the 'Best Bank in Mid-Size Banks' and also received the 'Excellence in Mobile Banking' award at the New Age Banking Summit (NABS) 2022 held on the 31st May, 2022 at Al Bustan Palace – a Ritz Carlton Hotel. Chief Guest and Keynote Speaker H.E. Tahir Al Amri, Executive President, Central Bank of Oman, bestowed the accolade to Bank Nizwa.
Bank Nizwa participated as the Strategic Partner of NABS, wherein the Bank's IT and Operations General Manager, Mujahid Al Zadjaly contributed as a panelist, deliberating the topic 'The Future of Banking and Financial Services'. During the panel discussion, participants shed light on future prospects, digital developments and innovations that will shape customer behaviours, business models and the long-term structure of the financial services industry. 
"We are thrilled to be commended for our efforts and winning these prestigious accolades at NABS 2022 is yet another step forward for the bank as we continue to focus on our digital transformation, reaping the fruits of our hard work and dedication as well as aligning ourselves with the Sultanate's ongoing digitalisation agenda," commented Mujahid Al Zadjali, General Manager of IT and Operations on the win. "Our aim is to continually improve our Digital services portfolio, which is why the digital app was meticulously designed. The commitment we have to the future of financial services and the rapid digitization of the sector indicates that we constantly work to incorporate the latest technological upgrades into our products and services, offering customers a cutting-edge alternative to conventional banking and enhancing their lives," he added.
The Bank Nizwa mobile app expanded the bank's customer-centred digital service capabilities and reflects the banks 'digital-first' strategy. The app has a comprehensive set of features, including the ability to manage personal finance and investment accounts, as well as internal and external cash transfers. Users may use the app to locate branches and ATMs, produce full account statements, make payments and order cheque books without having to visit a branch. With the convenience of the app, users can instantly and securely manage their finances 24 hours a day, seven days a week.
Bank Nizwa's FinTech efforts are seen today in the bank's attempts to integrate technology with Islamic banking, allowing clients to bank from the comfort of their own homes. Its commitment is to maintain healthy customer relationships across every banking channel by developing trust, relevance and convenience. Advanced security mechanisms secure these channels, ensuring that all private information is kept safe. To suit consumers' banking demands, the bank created the user-friendly mobile app in accordance with current market trends and expectations based on actual client needs. The bank brought innovations and new capabilities, aided by increased use of big data and improved customer research.
As part of its transformation strategy, Bank Nizwa continues to broaden its range of services and practical solutions to better serve its customers. The bank is also embracing digitalisation to simplify and improve clients' interaction with banks. In addition to offering new digital products and reshaping the customer experience, the bank has worked on digitising its existing retail banking products, making them more convenient for customers.
New Age Banking Summit highlights the challenges and opportunities and provides a knowledge and networking platform that will bring Oman's banking industry at par with its counterparts across the globe. The Summit will empower the banks to devise strategies that will help them keep pace with the evolving financial ecosystem and how the banks can become future ready by adopting digital strategies, innovating in products and services offered and reaching customers on digital channels while proactively combating cyber risks. The Summit also focuses on how new business models will make the bank relevant for next generation customers through adoption of new technology and what measures have to be taken today.