Monday January 30, 2023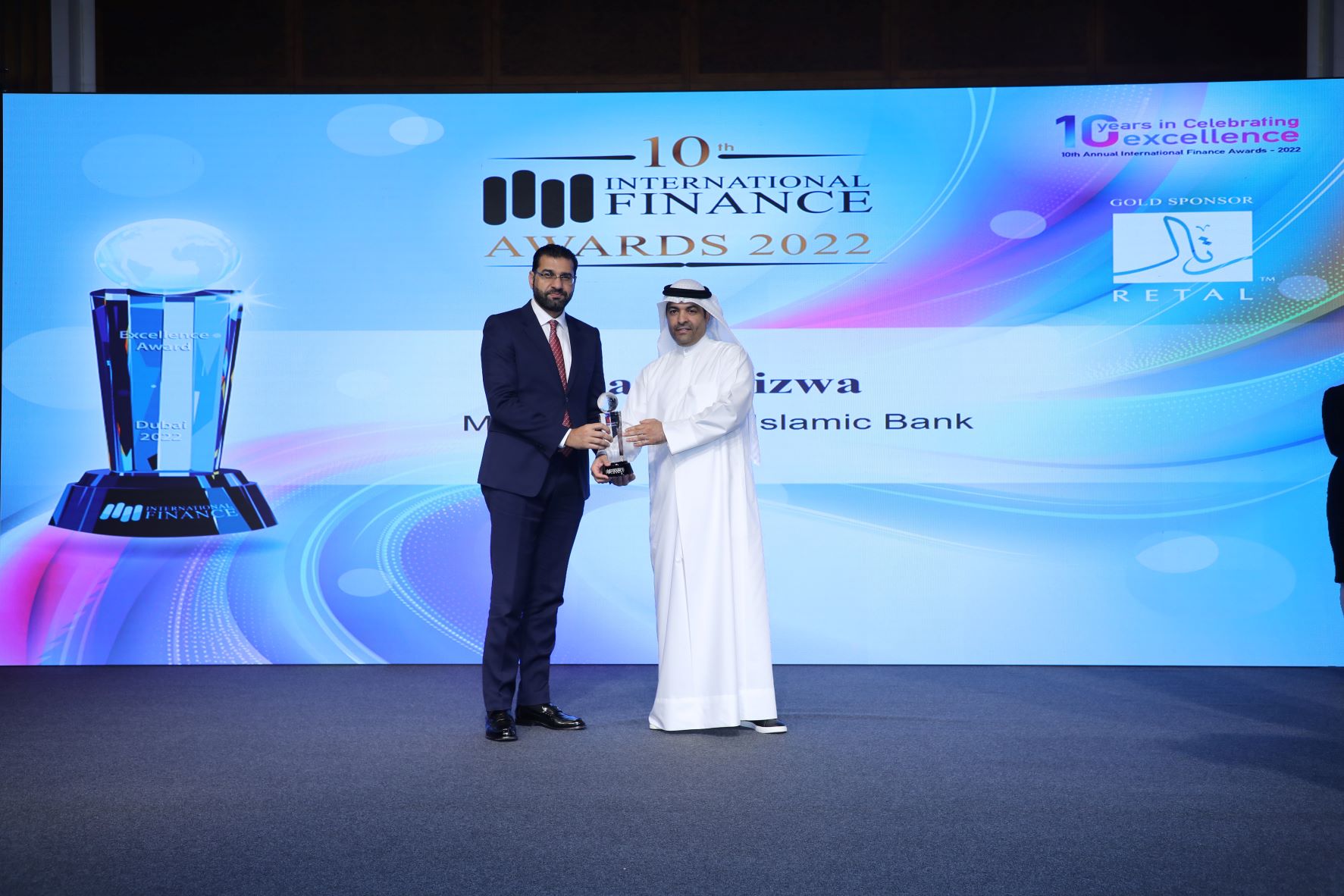 Bank Nizwa, the fastest-growing Islamic Bank in Oman, was recently honoured with the 'Most Innovative Islamic Bank' award from the International Finance Magazine, a prestigious business and finance magazine that connects investors, corporate leaders and companies from around the world. Held at the Jumeirah Emirates Tower Hotel in Dubai, the event was attended by Mr Khaled Al Kayed, the Chief Executive Officer of Bank Nizwa, who also received the award on behalf of the bank. 
Bank Nizwa is leading the charge in the FinTech space in Oman and is actively driving transformation. It has been rewarded for its commitment to streamlining its activities by incorporating digital technology. This recognition is a testimony to the Bank's dedication to providing innovative Shari'ah-compliant products and services. In the past year, the Bank shifted its focus to aiding customers by launching new digital financial options. Additionally, it has been extending its reach into the untapped retail and wholesale Islamic banking areas.
Al Kayed celebrated the award by stating, "We are thrilled to receive this esteemed international recognition as a home-grown Islamic bank. A fundamental part of our accomplishment has been our commitment to excellence in delivering a full-scale Islamic banking solution to our customers, along with superior, customer-focused banking experiences that are both gratifying and unforgettable. We will persist in attempting to upgrade our reputation as an Islamic bank that firmly backs the Sultanate's mission of becoming the international hub of the Islamic economy."
"Over the last year, we have created digital products and services to meet the demands of the market. This award is proof of our remarkable success in making the transition to a digital and innovative approach to keep our promise of simplifying our customers' financial matters and this is something we will keep doing," he added.
Bank Nizwa, a leader in digital progression, has made various noteworthy strides in utilising new technologies. Recently, they opened their first digital-only, paperless and unmanned branch at the Mall of Oman. This branch provides high-quality services intending to give customers a streamlined experience. It is equipped with three machines that let customers carry out various activities. Additionally, Bank Nizwa became the first Islamic Bank in Oman to introduce Shari'ah-Compliant debit and credit cards made from Polylactic Acid (PLA), typically sourced from corn and other vegetative starches. PLA plastics are more eco-friendly than traditional plastic as they are biodegradable. The Bank has shown its commitment to sustainability by introducing these green cards.
Bank Nizwa is devoted to fostering progress and has integrated inventive solutions, taken advantage of the latest technological developments, and encouraged digitalisation in the banking industry. Its handy mobile app provides customers with greater banking access through user-friendly services that are regularly updated. Furthermore, customers can quickly open accounts digitally to ensure a smooth transition. To deliver the highest quality service, Bank Nizwa has made substantial investments in future-proofing platforms and adopting future breakthroughs, such as artificial intelligence, data science and robotics.