Saturday June 29, 2019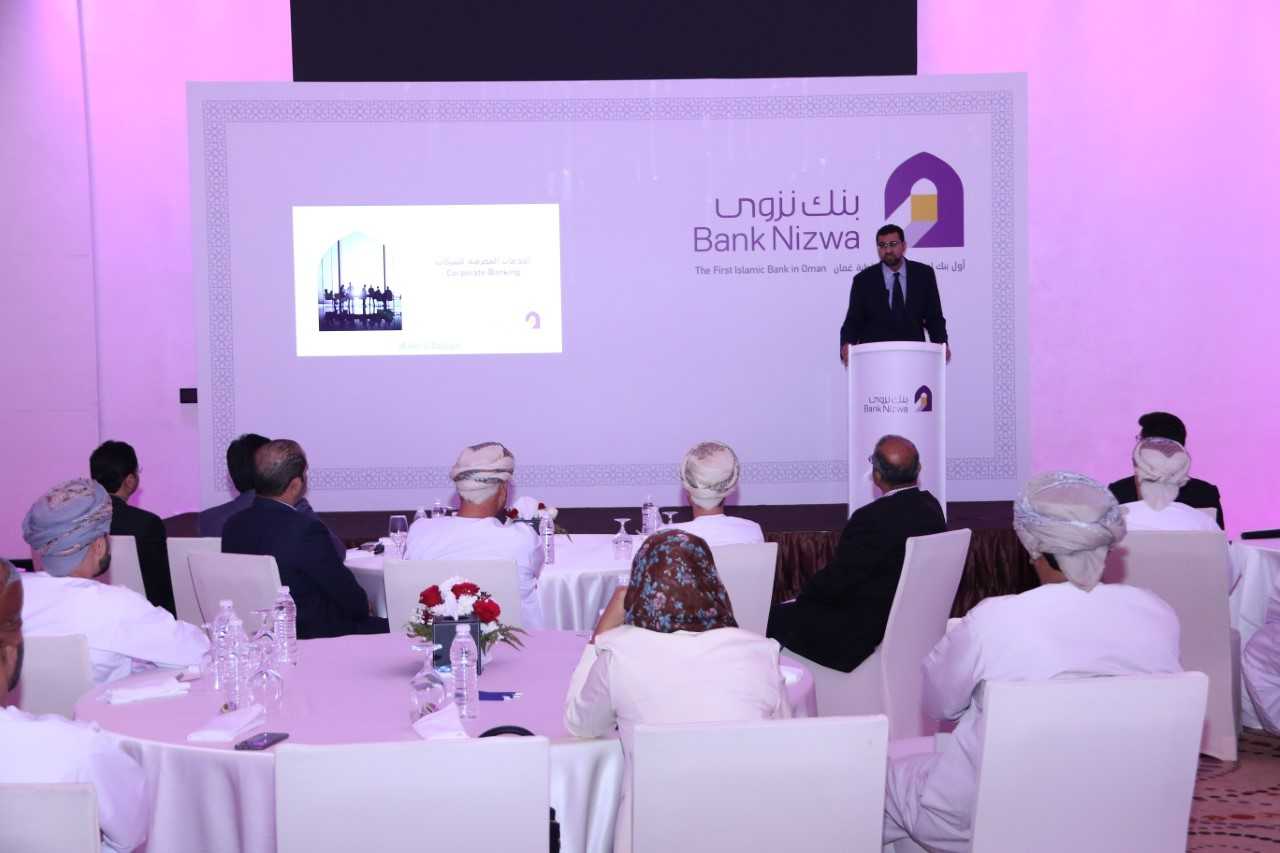 Bank Nizwa, Oman's fastest growing and leading Islamic bank, organized a special forum for Wholesale Banking clients in Sohar to highlight the opportunities available within the Islamic finance sector for their business growth. Hosted by members from the bank's Board of Directors, CEO Khalid Al Kayed, and General Manager of Wholesale Banking, R. Narasimhan, the event was organized in collaboration with the local chapter of the Institute of Chartered Accountants of India (IACA), and attended by more than 50 leading companies from Sohar, Saham and Buraimi, representing various industries.
Focused on the Wholesale Banking prospects in Sohar, the event successfully showcased the wide range of innovatively dedicated Shari'a-compliant products and services on offer. The Bank Nizwa team further highlighted the importance and benefits of Islamic banking as a diversifying source to achieve sustainable development goals.
Khalid Al Kayed commented, "We currently have a multi-industry portfolio of investments and our Wholesale Banking segment in particular has witnessed increasing interest. There are a myriad of opportunities in Islamic finance for all sectors and we're honored to be the bank of choice for our clients looking to tap into them. We are committed not only to deepening and diversifying our product offering, but also to continuing to champ the growth of Islamic finance for the business community across the Sultanate."
Al Kayed, added, "The strategic shift of the port from Muscat to Sohar has spurred economic activity in the Willayat, making it a burgeoning trade hub with a high industry friendly climate. We already have a strong retail presence there among the free zone and industrial area, as well as a notable impact among the SME sector, which is continually growing. These involvements are an important part of our growth strategy and our efforts in supporting employment of local talents."
Bank Nizwa's Wholesale Banking team offers advisory services through some of the most qualified experts in the industry. The guidance coverage includes the fields of corporate banking, project finance, SME and commercial banking, global markets, government and investment banking, international banking, and trade finance.
The Bank Nizwa Wholesale Banking Group provides a full suite of Shari'a-compliant products and services to meet the modern banking needs of government institutions, large corporates, project financing, and small and medium-sized enterprises (SMEs). The bank also offers dedicated treasury, investment, international banking, and trade finance services making it the business partner-of-choice for small to large enterprises across the Sultanate. The bank also offers a wholesale banking support division, which is a customer-centric function mandated to provide excellent customer service and quick turnaround. New initiatives this year include the introduction of transaction banking and Islamic Banking for Business knowledge series. Similar client engagement and events will be organized throughout the year.