Tuesday January 23, 2018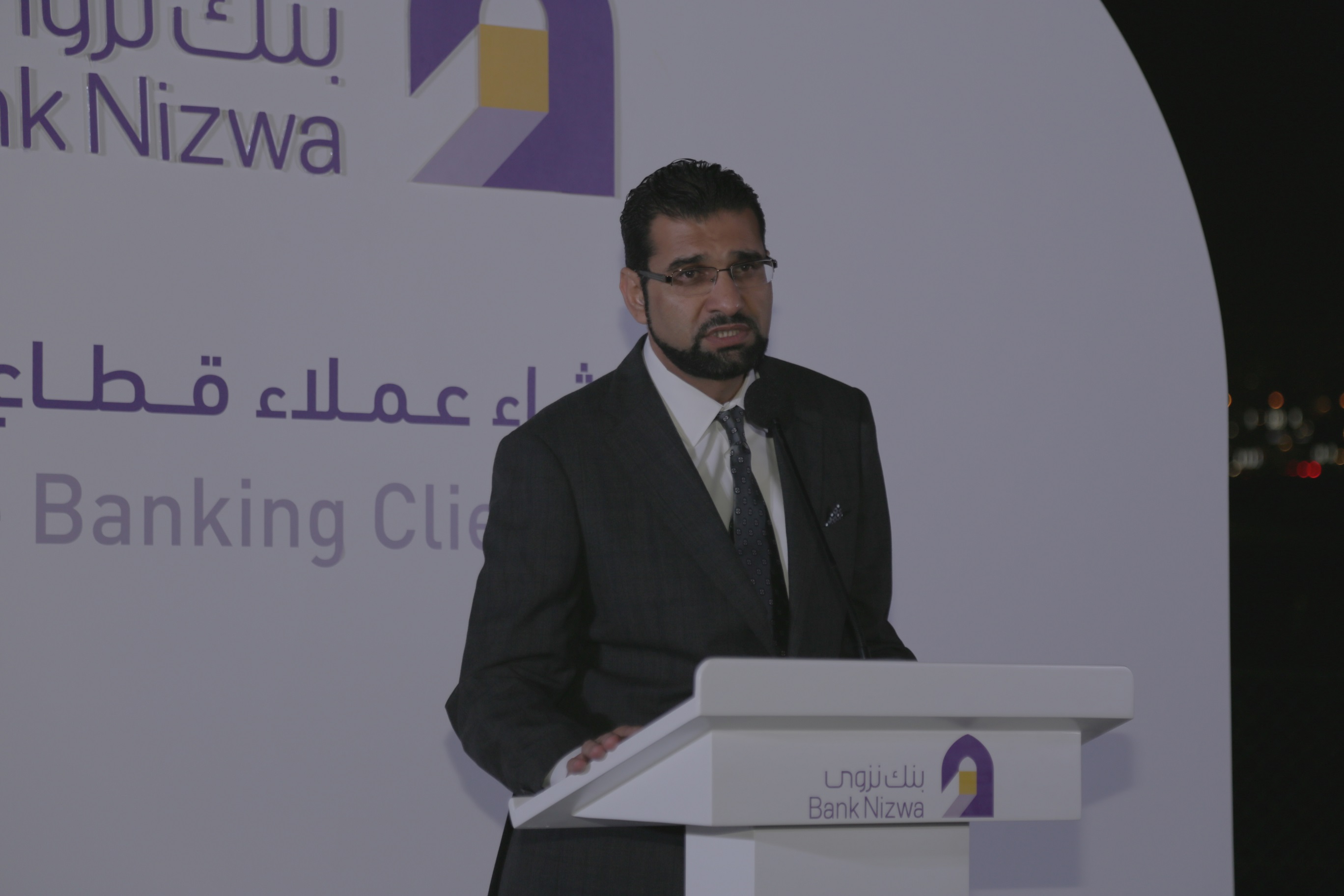 Muscat, January 23rd 2018 – Bank Nizwa, one of Oman's fastest growing and leading Islamic banks, organized a gala dinner, introducing its growing corporate clientele base to a wide range of its innovative shari'a-compliant wholesale banking products and services. Hosting the event were members from the bank's Board, CEO Khalid Al Kayed and General Manager of Wholesale Banking, R. Narasimhan among others from the bank's senior management team.
The event was attended the bank's wide spectrum of clients representing government, corporates, as well as Small and Medium Enterprises (SMEs) from the major cities of Oman including Muscat, Nizwa, Sohar, Duqm and Salalah. The networking event highlighted the bank's journey of success in the past five years and how corporate clients can drive maximum benefits from the bank's host of products and services.
Khalid Al Kayed, CEO of Bank Nizwa, said, "With five years of exceptional performance, we pride ourselves at Bank Nizwa with offering a full suite of innovative Shari'a-compliant wholesale banking solutions tailored to meet the needs of the most discerning clients. We believe Islamic finance is a flexible tool that can be leveraged in various industries including construction, manufacturing, contracting, oil & gas, pharmaceuticals and aviation to name but a few. Therefore, we are focusing on wholesale banking as a promising growth and investment area where we can increase profits and invest to generate more revenue."
Al Kayed, added "This is a time of transition not only for wholesale banking but the entire banking industry. To foster that shift, we will continue with our efforts of raising awareness over the benefits of Islamic finance to all stakeholders including individuals, as well as corporates of all sizes and government entities across the Sultanate."
Bank Nizwa provides a suite of Shari'a-compliant products and services to meet the banking needs of government entities, large corporates, project financing & syndication, and SMEs. In addition, the bank offers dedicated treasury, investment, international banking, and trade finance services, helping it become the business partner of choice for enterprises of all sizes across the Sultanate.
Narasimhan, General Manager of Wholesale Banking at Bank Nizwa, said, "With the increase in demand for corporate banking products, we are demonstrating our long-term commitment to our corporate customers with our current line-up of financing products as well as adding new products in trade finance and treasury. Our approach is rather simple, efficient customer-centric operations, while investing in channel integration and introduction of innovative Shari'a-compliant banking solutions."
Narasimhan, added, "Our team of experts works closely with customers to understand their respective business models and provide value-added solutions to their banking requirements. Their priority is to drive service consistency and positive customer experiences, while always aspiring to deliver results for our clients."
Bank Nizwa's wholesale banking team offers advisory services through some of the most qualified experts in the industry. These consultants provide guidance in the fields of corporate banking, project finance, SME and commercial banking, global markets, government and investment banking, international banking, and trade finance. In 2017, the bank launched its Corporate Internet Banking Service to provide customers with a one-stop shop for all their banking needs. In 2015, the bank introduced its SMEs department demonstrating its proactive role in encouraging the expansion of the Sultanate's entrepreneurial activities. These additions and the bank's plan to introduce new innovative products, and advisory services are in line with its Strategy 2020 that reaffirms Bank Nizwa's commitment to teamwork, innovation and service excellence.