Tuesday March 28, 2017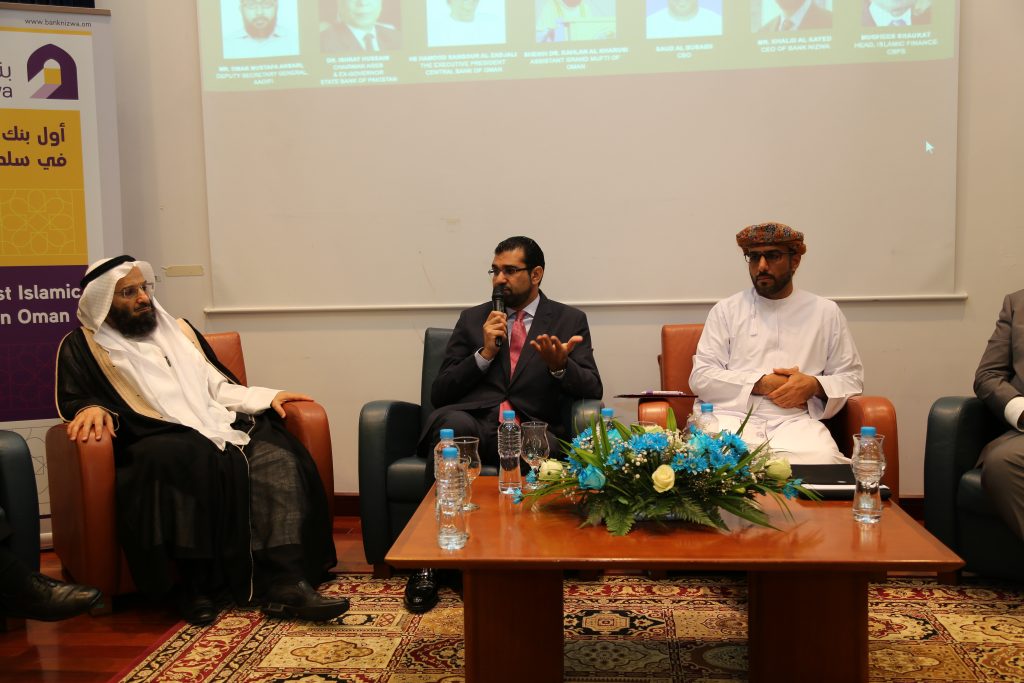 Bank Nizwa recently participated as the lead partner in the 4th Governance and Ethics Board Conference (AGEB) held by the Accounting and Auditing Organization for Islamic Financial Institutions (AAOIFI). Uniting banking and finance experts from across the region, the event was held under the auspices of HE Hamood bin Sangour Al Zadjali, Executive President of the Central Bank of Oman (CBO) at the College of Banking and Financial Studies (CBFS). The event attendees included Sheikh Dr. Kahlan Al Kharusi, Assistant Grand Mufti of Oman, and Dr. Ishrat Hussain, Chairman of AGEB and former Governor of the State Bank of Pakistan. Joining them was Bank Nizwa's CEO Khalid Al Kayed, who participated in a roundtable panel discussion, where he shared his expertise on Islamic banking regulatory frameworks.
Al Kayed, said, "The 4th AGEB brought stakeholders together to share best practices and chart an unparalleled course for the continued growth of Islamic finance. In the last few years, the sector has enjoyed rapid development at every level, with more and more people looking to us for an alternative to conventional banking. Backed by robust foundations and strong principles, we anticipate that with greater collaboration and a renewed commitment to innovation, Islamic finance in Oman will continue to soar to new heights."

He added, "Oman Islamic Banking Regulation Framework issued by the Central Bank of Oman is a set of very comprehensive and well-articulated guidelines for Islamic banks. We, as Islamic banks in Oman, are fortunate to have sound laws and regulations from the start, which is vitally important for the purpose of consistently ensuring high regulatory standards and market-wide resilience given markets today are increasingly dynamic. IBRF played a key role in supporting the growth and development of Islamic Banks in Oman."

The CEO went on to explain how Islamic banks in Oman are more transparent, safer and well-governed by Shari'a and regulatory standards, which is a great achievement of the Central Bank of Oman by keeping standards well balanced. According to Al Kayed, on one hand, the CBO strives to maintain order to ensure appropriate safeguards for investors and depositors with adequate regulations to ensure strong banking practices and market confidence. On the other hand, he highlighted how the CBO strives to provide a regulatory environment that allows enough impetus for market development, without stifling innovation and competition.

Al Kayed, concluded, "To address the fast changing market circumstances and increasing range of products and services, review and update of the legal and regulatory framework of Islamic finance will ensure that all products and services continue to be in line with the principles of Shari'a."

Since inception in 2013, Bank Nizwa has been the go-to-reference and ambassador for Islamic finance in Oman participating and organizing several initiatives to enhance and elevate the awareness on Islamic banking across the country. The bank is steadfast on developing future leaders who can advance the industry in the years ahead and bringing the benefits of Shari'a-compliant banking to people across the Sultanate. In addition, the bank has developed numerous forums, seminars, and workshops including the establishment of the Islamic Finance Knowledge Series, the Islamic Banking Knowledge Forum, and collaborations with higher educational institutions from around the world.