Tuesday October 8, 2019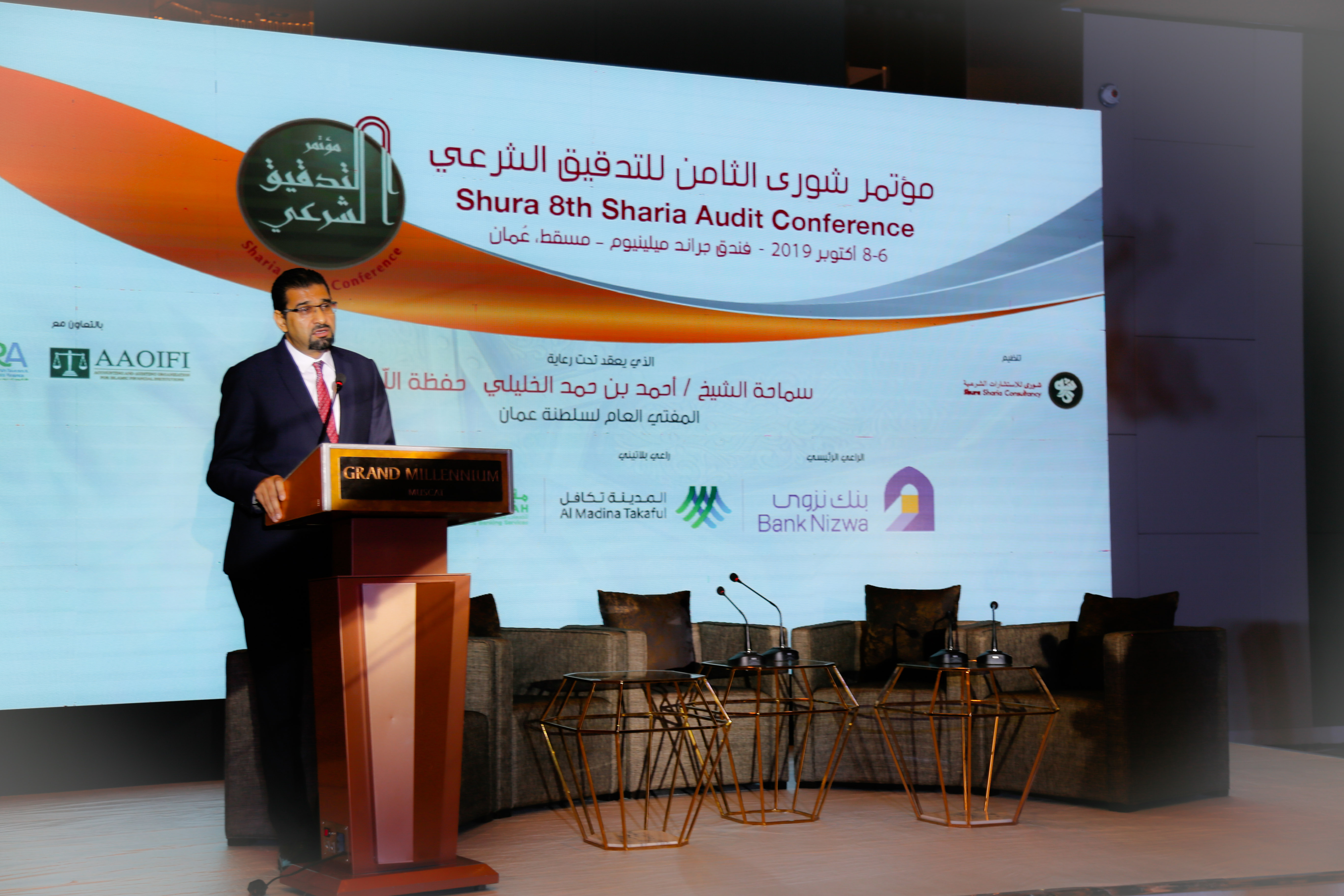 Continuing to lead the Islamic finance industry across the Sultanate, Bank Nizwa CEO, Khalid Al Kayed and Shari'a Supervisory Board Member of Bank Nizwa, Sheikh Ibrahim bin Nasir Al Sawafi participated at the 8th Shura Sharia Audit Conference. During his speech, Al Kayed highlighted Bank Nizwa's role in supporting such initiatives, and growing the Islamic finance sector in the Sultanate. Two more senior team members from the bank participated in panel discussions. Dr. Mansour Al Qudah, Head of Sharia presented a paper titled 'Adopting COSO Methodology in Sharia Audit and jointly presented another paper titled 'Reality of Sharia Audit in Oman' with Mr. Abdulrahman Shaikh, Sharia Audit Chief Manager at the bank.
Held under the patronage of His Eminence Sheikh Ahmed bin Hamad Al Khalili, Grand Mufti of the Sultanate, the event saw the participation of local and international industry experts who congregated to Muscat to discuss the most pressing topics in the Islamic finance industry, focusing Sharia Audit. The panel discussions highlighted the adaptation of the COSO framework, technology advancements and quality assurance in Internal Sharia audits.
Speaking during the conference, the CEO of Bank Nizwa said, "Islamic finance is one of the fastest growing segments of international financial markets and has shown strong growth rates in Oman as well. Since the inception of the industry in the Sultanate, increasing efforts have been undertaken to structure Shari'a-compliant financial products, to develop and institutionalize this growing sector, with the main goal of presenting a viable and competitive alternative to conventional banking. I believe, the industry and in such a short period of time, have been successful in reaching out to communities across the Sultanate. This success is contingent on having a clear framework of Shari'a audit for all Islamic Financial Institutions individually and then of course having a bigger umbrella of guidelines under the Islamic Financial Services Board (IFSB). All stakeholders must ensure compliance to create a culture that fosters growth of the industry making it mainstream in the next few years to come."
Bank Nizwa is renowned for its expertise in delivering tailored, high-quality Shari'a-compliant banking solutions. Its dedication to empower consumers with the benefits of Islamic banking is always in line with the decisions and resolutions of its own Shari'a Board and also in compliance with the Sultanate's guidelines under the Islamic Financial Services Board (IFSB). The bank participates regularly participates in numerous forums, seminars, conferences and workshops, while raising awareness among various communities over the benefits of Islamic banking solutions and its contributions to the national economy.