Monday April 18, 2022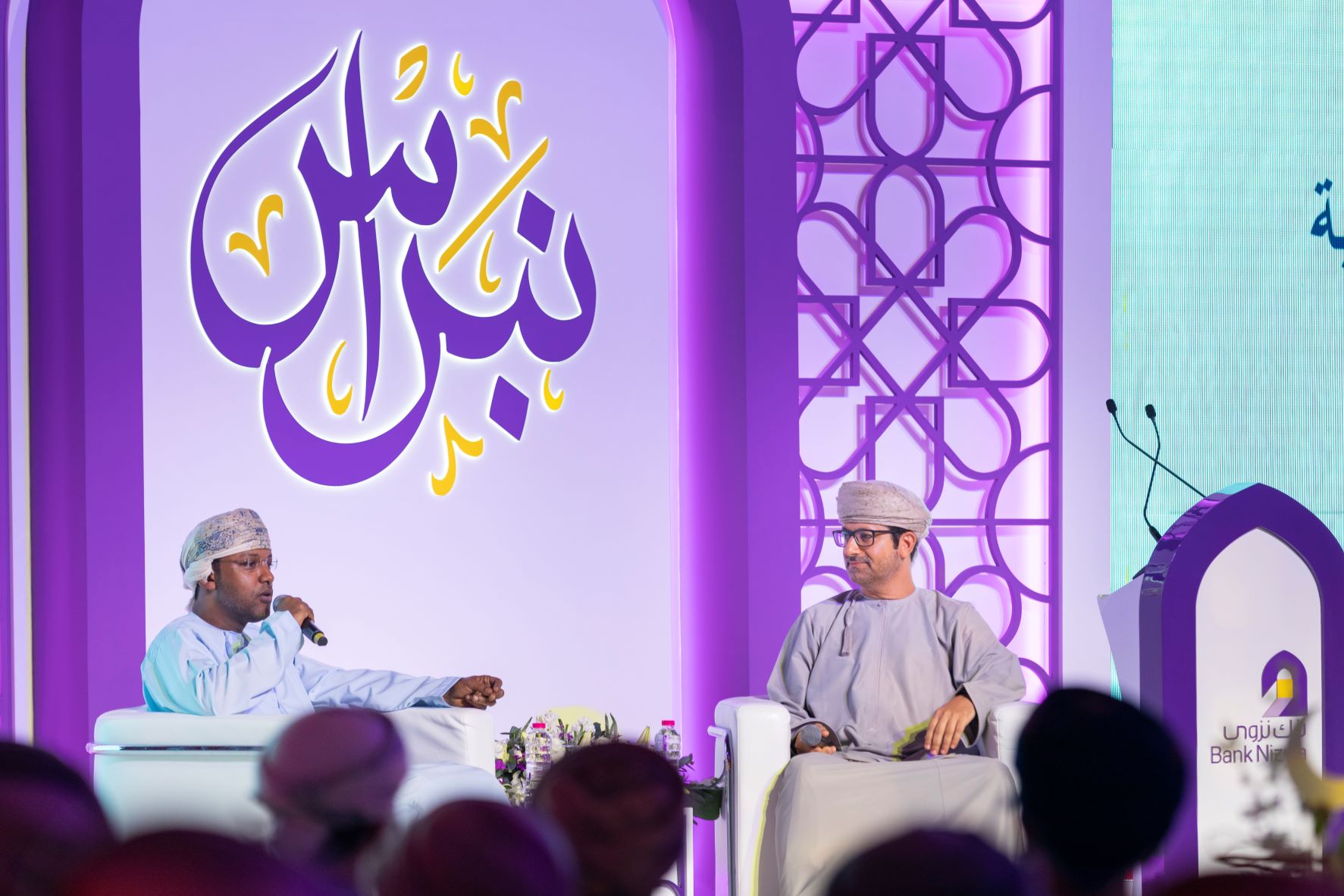 Intending to be the go-to bank for Sharia-compliant products, services and financial advisory, Bank Nizwa, Oman's leading and most trusted Islamic bank, recently launched a series of events under the name of 'Nibras'. The initiative is held under the headship of Shaikh Khalid Al Khalili, Chairman of Bank Nizwa to engage with the bank's key stakeholders and position Bank Nizwa as a leader in Islamic banking.
Aligning with its objective and commitment to make Islamic Banking acquainted with the masses in Oman, The first session of 'Nibras' introduced panelist His Excellency Tahir Al Amri, Executive President of the Central Bank of Oman and was moderated by Shaikh Khalid Al Khalili himself. The session highlighted various topics including the progressive career journey of HE Taher Al Ameri as well as the rapid digital revolution in the financial sector and how Islamic banking has stayed abreast with this progressive change.
During the panel discussion, H.E. Al Amri emphasised the application of digitalisation in an institutions day to day operations and creating a positive impact on the business. The panel also reflected on how innovation has affected the development of the banking industry and the outlook of Oman's banking sector in the next five to ten years. Moreover, the panelist also shed light on digital transformation's opportunities, challenges and regulations.
"Over the years, the Islamic financial system has significantly evolved. It is one of the most dynamic systems to emerge in recent years, and it has managed to pique the curiosity of millions of people all around the world," said Shaikh Khalid Al Khalili. "With more Omanis joining the national workforce every day and are required to make financial decisions, it is crucial to educate them about Islamic banking. Islamic banking seeks to promote the ideals of a prosperous society and stable economy. It offers commercially viable finance based on the values of fairness, ethics and compassion. In fact, Islamic banking was created to benefit, directly and indirectly, all members of the communities that it serves, under Shari'a law."
Bank Nizwa regularly conducts such knowledge sessions to increase awareness and clarity about Islamic banking and Sharia-compliant financial services and products, intending to enable attendees to make informed financial decisions. It hosts annual events with varying themes and targets diverse audiences, such as Bank Nizwa wholesales clients gathering, wealth management events, Islamic Finance Knowledge Programme and many more to expand its professional network and maintain relationships.
"That being said, Bank Nizwa has always strived to be the financial partner of choice for the people and enterprises of Oman. Ever since its inception, the bank has been committed to providing Sharia-compliant innovative financial solutions, with an aim to offer customers a unique banking experience in line with their evolving needs," he added.
As the first Islamic bank in Oman, Bank Nizwa maintains a long-standing commitment to raising awareness of the concept and principles of Islamic finance and sharing its multifaceted benefits with people across the Sultanate. It has spearheaded several initiatives geared at advocating the concept of Islamic banking and the various advantages of opting for Sharia-compliant financing solutions. The Bank seeks to enhance the Islamic economy, contributing to the socio-economic development through integrated efforts between the various institutions.
With Oman's growing economy being fueled by a thriving entrepreneurial ecosystem, leading to job creation and adaption of innovation, it is only imperative that Islamic banks like Bank Nizwa stay ahead of the curve by undertaking such thought leadership programmes that are targeted to provide social and economic benefits to the members of the community.