Saturday May 5, 2018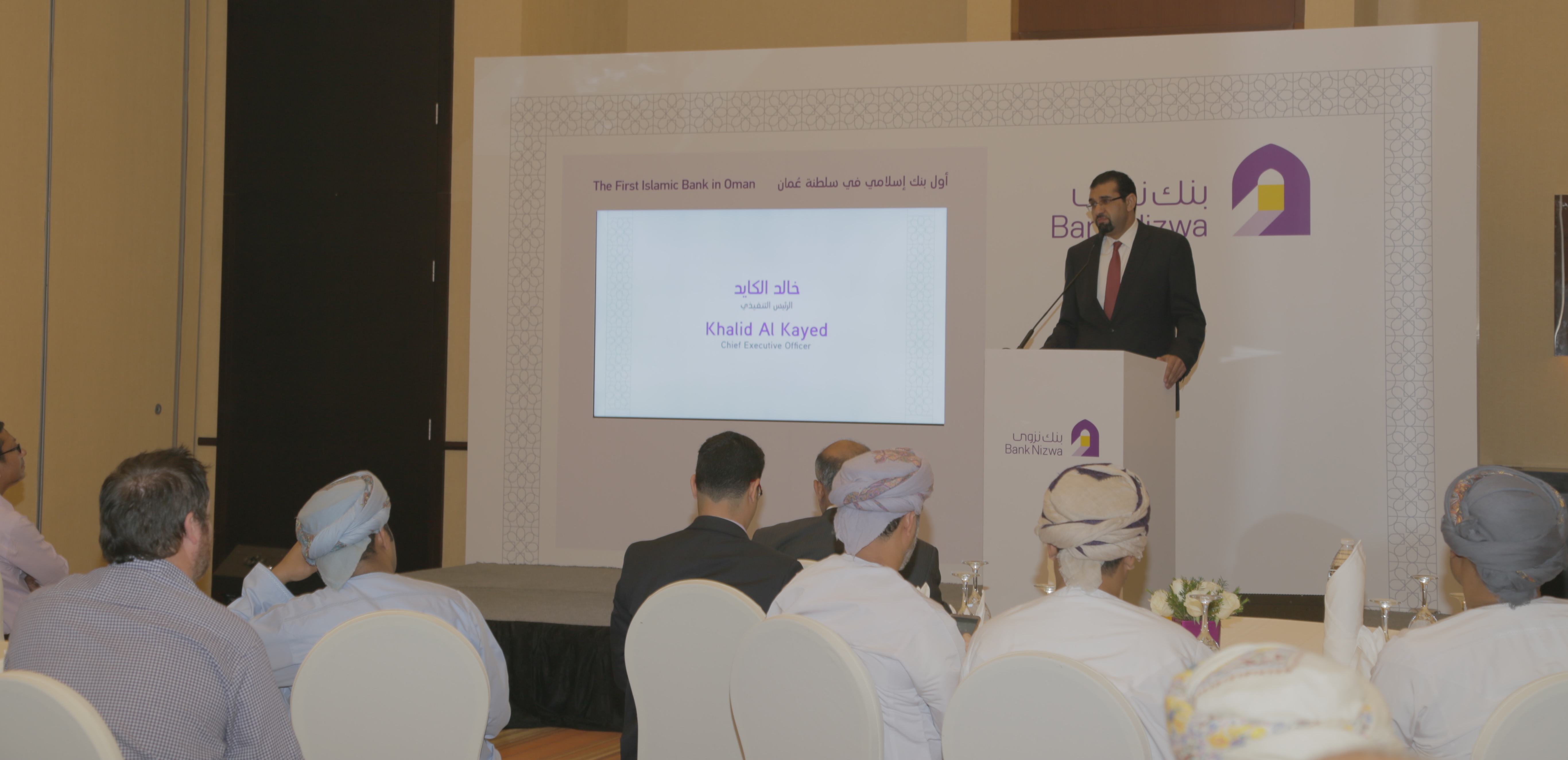 Committed to leverage the multifaceted benefits of Islamic finance across various industries, Bank Nizwa, organized a gala dinner in Sohar introducing its growing corporate clientele base to its innovative Shari'a-compliant wholesale banking solutions. Attended by Khalid Al Kayed, CEO of Bank Nizwa, R. Narasimhan General Manager of Wholesale Banking as well as the bank's senior management team, the event gathered a host of stakeholders representing a wide spectrum of corporates, SMEs and other organizations. The networking event underscored the bank's plans to utilize the latest innovations and explore opportunities in the local wholesale banking market segment.
As the Sultanate's pioneer Islamic banking institution, Bank Nizwa provides a suite of Shari'a-compliant products and services to meet the banking needs of government entities, large corporates, project financing & syndication, and SMEs. In addition, the bank offers dedicated treasury, investment, international banking, and trade finance services, helping it become the business partner of choice for enterprises of all sizes across the Sultanate.
Khalid Al Kayed, CEO of Bank Nizwa, said, "We live in an ever-changing economic environment as more people, communities, and industries seek more personalized solutions backed with technological advancements and trends. That is why, Bank Nizwa has taken a proactive stance to foster innovation, encourage private and public sector partnerships, and pursue business excellence."
Al Kayed added, "As the people's dedicated advisor and partner, we offer transparent and advanced Shari'a-compliant solutions effectively to contribute to the economic diversification efforts led by the Omani government. Today, wholesale is a growing investment area despite a challenging marketplace. At Bank Nizwa, we pride ourselves for offering a full suite of innovative Shari'a-compliant wholesale banking solutions designed to meet the needs of our growing portfolio of clients."
R. Narasimhan, General Manager of Wholesale Banking at Bank Nizwa, said, "Over the past five years, we have developed a comprehensive portfolio of Shari'a-compliant products and services that go beyond catering to the traditional needs of corporate banking. Islamic finance's risk-sharing features and the strong link of credit to collateral means what we offer can be tailored to accommodate large corporations, SMEs and startups."
He added, "Bank Nizwa's wholesale banking services offer comprehensive advisory services through a team of experts who work closely with our customers to ensure a seamless experience. We are here to support all our existing and potential partners' banking needs to keep their business running including, project finance, SME and commercial banking, global markets, government and investment banking, and international banking."
Bank Nizwa has been growing consistently year-on-year since inception in all business segments attracting various industries with its innovative Shari'a-compliant corporate and wholesale Islamic banking solutions. Dedicated to provide exceptional services that meet the needs of customers, Bank Nizwa continuously seizes opportunities to showcase the numerous benefits of Islamic finance in diverse industries and market segments. Added to that, in 2017 the bank launched its Corporate Internet Banking Service to provide customers with a one-stop shop for all their banking needs.